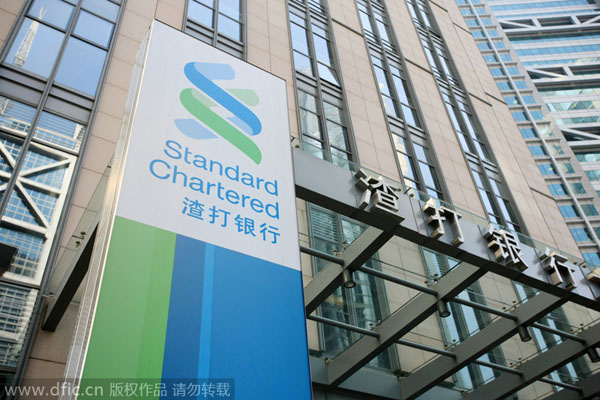 View of the office building of Standard Chartered Bank at the Lujiazui Financial District in Pudong, Shanghai, March 11, 2014. [Photo/IC]
BEIJING - Banking multinational Standard Chartered's Renminbi Globalization Index (RGI) reached 1,911 in July, up 0.85 percent from the previous month and 69 percent year-on-year, it was announced on Monday.
Lackluster index growth was a result of mild detraction of offshore RMB foreign exchange turnover and Renminbi deposits, which partly offset a rise in cross-border Renminbi payments, the London bank said in a statement.
RGI, a comprehensive index that measures the internationalization of the offshore RMB across markets, is the first industry benchmark that effectively tracks the progress of RMB business activity, according to the bank.
It offers corporates and investors a quantifiable view of the latest trends, size and levels of offshore activity that are driving RMB adoption.
The bank said Hong Kong, which started its offshore RMB business in February 2004 and was the first mover in offshore yuan business, remained leader in offshore Renminbi payments, followed by London and Singapore.
Cross-border Renminbi payments rebounded slightly in July, but the Renminbi's share of China's trade dropped, according to the statement.
But Renminbi trade settlement and its share of China's total trade are expected to rebound in the final quarter of this year, on the back of rekindling market confidence in the Renminbi.
Contribution of offshore Renminbi deposits to the increase in the index was the smallest in 21 months as deposit growth remained muted. And there could be more headwinds for offshore Renminbi accumulation in the coming months, it said.
Liquidity in the offshore Renminbi market could stay on the tight side as new and expanded cross-border Renminbi remittance channels, such as Shanghai-Hong Kong Stock Connect, two-way sweeping programs and cross-border loans, could favor net outflows in the near-term.
As a result, the bank revised down Hong Kong's Renminbi deposit to 980 billion yuan (1$59 billion) by the end of 2014, from its original forecast of 1.15 to 1.20 trillion yuan.
Offshore deposits in other emerging centers, especially Taiwan and South Korea, will likely grow strongly, the bank said.
Dim Sum bond primary issuance slid to the lowest this year to just 14 billion yuan in August, bringing gross issuance to 426 billion yuan for the first eight months, or 114 percent of the total in 2013. Full-year Dim Sum issuance forecasts remain at 550 to 580 billion yuan.
Standard Chartered launched the RGI in November 2012. The RGI's base value of 100 was set on Dec 31, 2010. The index covers the top four markets in offshore RMB business.
It measures business growth in four key areas -- deposits (denoting store of wealth), dim sum bonds and certificate of deposits (as vehicles for capital raising), trade settlement and other international payments (unit of international commerce) and foreign exchange (unit of exchange).