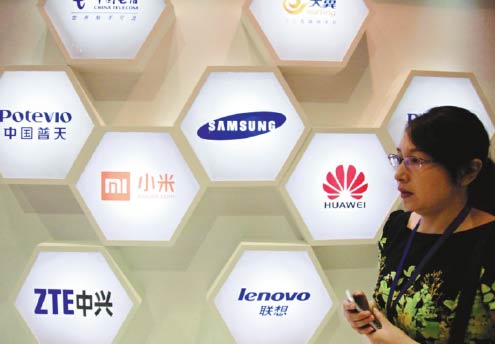 A woman attends a mobile phone trade show on June 27 in Nanjing, Jiangsu province. The US-based Audience Inc has teamed up with Chinese smartphone companies like Xiaomi and mobile operators like China Mobile. CHINA DAILY
US audio tech firm hoping China will drive its future growth
It is not often that you would spot the chief executive of a Silicon Valley-based company "asking" his smartphone to take a selfie of himself in a Shanghai subway car. But that was exactly what Peter Santos, the chief executive of the United States-based Audience Inc, was doing on a bright and sunny morning in Shanghai during a recent business trip.
Like a proud parent who talks about the achievements of his children, Santos pointed to the smartphone and said that it is not just an instrument with voice capabilities, but something that can interface across multiple platforms and unleash a veritable revolution in wearable technologies.
"It is a whole new market, and China will be the key for us," said Santos. Set up in 2000, Audience specializes in advanced audio, voice processing and multi-sensory processing technologies. The company was listed on the tech-focused Nasdaq in 2012.
The US-based company reported total revenue of $160.6 million in 2013, compared with $143.9 million in 2012. Santos says that Chinese smartphone vendors are crucial to the US company's long-term fortunes. During the first quarter of this year, Chinese mobile phone maker Xiaomi, often called China's Apple, accounted for 14 percent of Audience's total revenue and was instrumental in popularizing the US company's applications and technologies across China.
Audience's China connection does not end with just Xiaomi. Instead, it is a virtual who's who including Huawei, ZTE, Lenovo, Coolpad, Meizu, Gionee and OPPO. Among its global customers are big names like Samsung, LG, Motorola, HTC, Dell and NEC.
"The phone market in China has changed rapidly in the past seven years," said Santos. Explaining his point, Santos said that when he first visited China in 2007, he saw that most of the phones being developed were basic models. "Most of the OEMs had limited advanced audio and voice technology capabilities," he said.
"Today, Chinese smartphone makers are the most sophisticated users of advanced technologies, and in some cases, they are faster than their foreign peers in terms of technology adoption," said Santos adding that this has provided the right momentum for the fast growth of Audience's core businesses.
Smartphone shipments in China are expected to reach 420 million units this year, a 19.8 percent year-on-year growth, according to data provided by global market research institution International Data Corp. According to IDC, smartphone shipment volumes have increased for nine consecutive quarters in China from 2012 onward, making the country the largest smartphone market in the world.
According to IDC, Lenovo was the top-ranked Chinese smartphone vendor with shipments of 13 million in the second quarter of this year. Xiaomi placed second with 12.9 million units and was followed by Coolpad with 12 million units. Samsung was ranked fifth during the period under review, a sharp fall from the top slot it had during the first quarter.
"Though smartphones are extremely popular in China, there's still enough room for growth, as China is a huge country, and lots of people have yet to use these devices," said Santos.
The number of smartphone buyers is also going up steadily due to the better income levels in China. "In contrast, the Western markets have become saturated," he said.