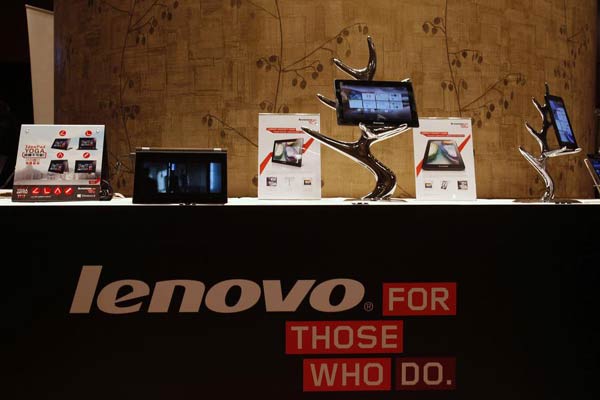 Lenovo tablets and mobile phones are displayed during a news conference on the company's annual results in Hong Kong in this May 23, 2013 file photo. [Photo/Agencies]
Lenovo Group Ltd's revenue in European, Middle Eastern and African markets surged by nearly 50 percent year-on-year between April and June, the company said on Thursday.
The world's largest maker of personal computers has earned $2.8 billion in the region in last quarter, accounting for 27 percent of its worldwide revenue, its quarterly results showed.
"EMEA saw record highs in PC share and operating margin, hitting the No 1 position in notebooks for the first time and achieving the No 1 position in total PC sales in 15 countries," the company said.
Beijing based Lenovo reported quarterly revenues of $10.4 billion worldwide, an 18 percent increase year-on-year.
The company's long-time investment in smartphones yielded fruit in the past quarter. It sold more smartphones than PCs for the first time with record volume of 15.8 million units, up by 39 percent.
Yang Yuanqing, chairman and CEO of Lenovo, said the company will see even more opportunities for "rapid growth" as the PC industry recovers, the smartphone market shifts from premium to mainstream, and the completion of the Motorola Mobility and IBM x86 acquisitions.