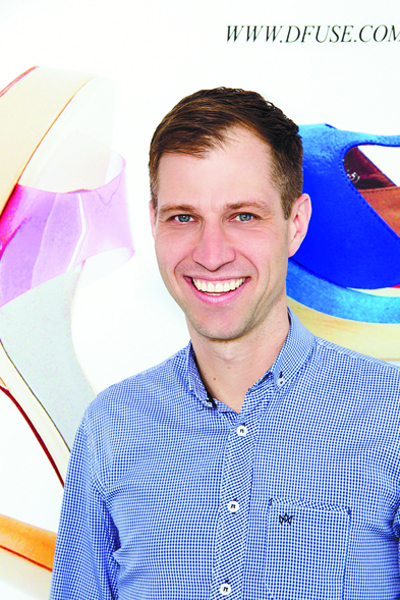 Kasper Leschly, Founder of D:fuse 
Women today have more shoe choices than ever before. But no shoe has captured the essence of leisure, sexuality and sophistication as much as the high-heeled shoe.
Kasper Leschly, the founder of a chic shoe brand, is well acquainted with women's special fondness for high-heeled shoes. The Danish entrepreneur, 42, is striving to bring the latest Scandinavian urban trends to China.
"For fashion-sensitive women in big Chinese cities, shoes are no longer considered apparel but rather something akin to 'jewelry for the feet'. They are worn for display or the enjoyment of the wearer.
"But wearing high-heeled shoes can sometimes be painful. I just want to offer Chinese women comfortable highheels, and I hope our design can push the boundaries of current trends."
Leschly registered the shoe brand D:fuse with a business partner in Beijing in 2006. Choosing China as a place to do business essentially came down to the size of its market, he says.
"I studied Chinese at Beijing Normal University and have traveled a lot throughout the country, so I know how big it is. If you go to Vietnam or Thailand, they are only the size of a single Chinese province, so it was market size that was decisive for us."
D:fuse shoes first hit the streets of Shanghai in 2007 and soon became one of the fastest-growing Scandinavian shoe companies in China.
"We didn't realize how fast our shoes would become popular among China's fashionistas," he says.
Since its entrance into the market, D:fuse has rapidly expanded across the country, with more than 40 retail outlets opening in the first three months.
"Seven or eight years ago, you could buy fashionable shoes in China, but it was difficult to get really trendy shoes even in big Chinese cities. I think that was why the big department stores responded so positively when we approached them. They looked on our shoes as fashionable and trendy.
"I remember when we opened shops in Dalian, Shanghai and Chongqing in one single day. It was very hectic."
But after its rapid early expansion in the beginning, D:fuse has slowed down to spend more time on market research.
"After those hectic first months, we slowed in terms of opening new shops, wanting to learn more about the market," Leschly says.
For him, how to make an independent niche shoe brand stand out in today's highly competitive retail environment of mega brands and monolithic flagship stores is a question he needs to constantly think about when doing business in China.
As D:fuse has continued to innovate, that has paid off in rising sales revenue and profits.
Today, it has more than 230 shops across China, in 50 cities. Last year, it sold 600,000 pairs of shoes for revenue of about 400 million yuan ($65 million).
But Leschly says doing business in China is not as easy as it was several years ago because buyers have become more sophisticated and competition is much more fierce.