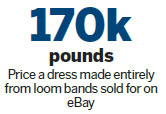 For millions of school children they are a must-have fashion accessory. Footballer David Beckham and Britain's Prince William have sported them.
Loom bands - colorful rubber bands woven together into bracelets and other items - are the latest craze to sweep playgrounds everywhere, from New York to Singapore.
Last month a dress made entirely from loom bands was sold on eBay for 170,000 pounds ($287,000), and the fad has made one French couple a million-dollar fortune.