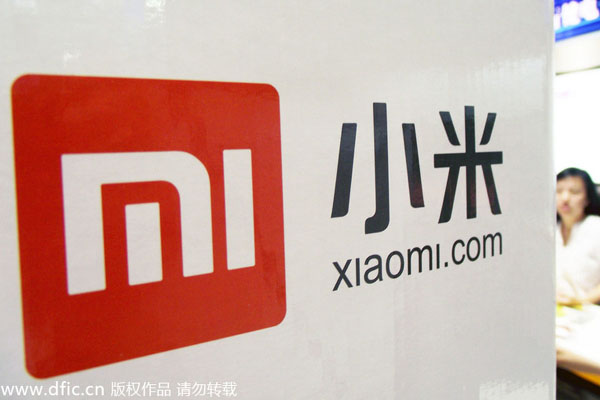 A Chinese employee is seen at the stand of Xiaomi during a fair in Nanjing city, east Chinas Jiangsu province, 28 June 2014. [Photo/IC] 
Chinese handset maker Xiaomi Corp nearly tripled its smartphone shipments in the second quarter, beating longtime market leader Samsung Electronics Co Ltd in China, the world's largest smartphone market, an industry report said.
Analysts said the rapid rise of homegrown smartphone brands is inevitable, as Apple Inc and Samsung are the only overseas vendors to have a sizable market share in the country.
Xiaomi, based in Beijing, shipped 15 million devices from April to June in China, taking 14 percent of the nation's market share, according to Canalys. Samsung's shipments in China were a little more than 13 million in the same period.
"This is a phenomenal achievement for Xiaomi," said Wang Jingwen, a Shanghai-based Canalys researcher.
"The 4-year-old company has executed its strategy to grow volume shipments. It has delivered compelling products at aggressive price points, focused chiefly on its locally relevant operating system features and services, backed by effectively targeted marketing," she said.
Xiaomi founder and CEO Lei Jun said last month he aims to sell 60 million smartphones before the end of this year. Most of the sales will come from the Chinese mainland. Up to 97 percent of Xiaomi's second-quarter shipments were in the mainland, according to Canalys.
Analysts said overseas vendors are likely to become niche players in the long run while mainstream demand will be fulfilled by local companies.
Eight out of the top 10 smartphone vendors in China were local brands in the second quarter, according to Canalys. Local companies, led by Huawei Technologies Co Ltd and Lenovo Group Ltd, took more than 70 percent of the market share in the three-month period. Although Apple and Samsung made their way into the top 10 list, the companies' total shipments took only 18 percent of market share, it said.
Chinese consumers buy roughly 100 million smartphones each quarter.
However, Chinese companies may find it hard to become global players.
Although Xiaomi announced plans to tap into other emerging markets, including Indonesia, Mexico, Russia, Thailand and Turkey, its overseas shipments remain small.
Xiaomi's aggressive pricing model will resonate beyond China, but the challenge it faces in scaling its model for success on the global stage should not be underestimated, said Jessica Kwe, a Canalys analyst based in Singapore.
Bryan Wang, principal analyst and country manager at Forrester Research Inc, said Xiaomi should focus on emerging markets when chasing overseas buyers to avoid direct conflict with such top-tier brands as Samsung.
Weaker mobile phone subsidiaries in countries like India and Indonesia will give the Chinese company a friendly environment in which to expand, he said.
Xiaomi's latest target market is India. It launched an online selling campaign there of its entry-level devices in July.
Huawei, Lenovo and other smaller Chinese companies also are eyeing emerging markets, such as Africa, the Middle East and Southeast Asia, to drive shipments outside China.
In the second quarter, the total smartphone shipments of Huawei and Lenovo accounted for less than one-third of Apple's and Samsung's combined shipments, according to industry consultancy IDC.