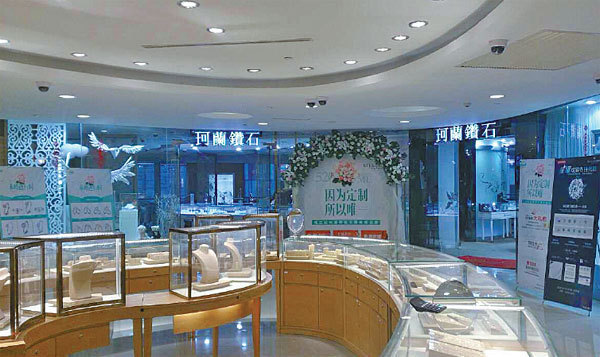 Kela Co Ltd's flagship store in Shanghai. Founded in 2007, Kela won the first round of $3 million investment in 2008, and in May last year, it set up 43 brick-and-mortar stores in 34 Chinese cities, as well as becoming China's largest online jewelry retailer. Provided to China Daily
Deal with Israeli firm to tap into China's fast-growing in colored loose diamonds market
After seven years of rapid growth, which made it China's largest online jewelry retailer, Kela Co Ltd is aiming this year to become more upmarket and professional.
New chief executive officer Cao Hongzhi, 40-year-old, has planned carefully with regard to Kela's future.
A number of changes have been introduced, including seeking help from the world's leading talent solutions company Hudson to make Kela's structure clearer, introducing new product lines and moving its headquarters from Beijing to Shenzhen.
At the Hong Kong Jewelry and Gem Fair in late June, Kela signed an agreement with GIA-certified Israeli diamond company Leibish & Co to become the latter's exclusive retailing partner in China. The colored-diamond resources Leibish provides and Kela's Internet customer base will help to tap into the colored loose diamond market in China.
Concentrating on diamonds and selling fewer gold products, which have smaller gross profit margins, is one of the transitional strategies adopted by Kela, said Cao.
According to Gems and Jewelry Trade Association of China, the global diamond market maintained steady growth in 2013, with total sales of $72.1 billion despite a stagnant global economy. India and China were the two fastest growing diamond retailing markets last year.
The most expensive product Kela has for sale is a 5-carat diamond ring worth some 6 million yuan ($971,700). When the colored diamonds become available, the most expensive item will be more than 3 million yuan. To date, the two most expensive single diamonds Kela has sold are a 3 million yuan diamond online and a 6 million diamond sold in store.
Kela does not view itself as a luxury brand and has no ambition to compete with the internationally renowned names in the jewelry world. Its goal is to provide diamonds at an acceptable price level. As an e-retailer it benefits from cutting out the cost of the middle man.
The company's product line is targeting customers born in the 1990s who are reaching the stage in their lives when they want to get married.
"We used to develop products based on our understanding of the market rather than making a thorough study of consumers. But now we have hired consultancy firms to make the products more tailor-made to what consumers want," said Cao.