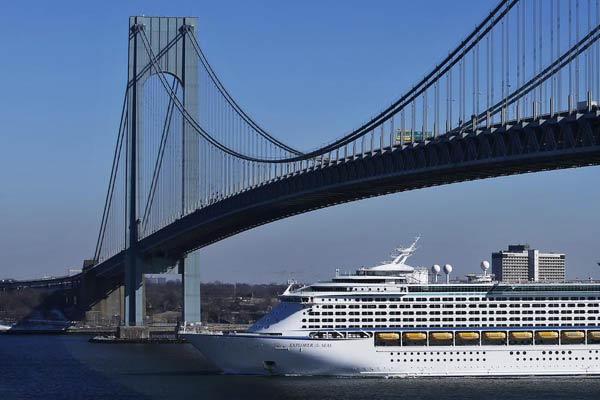 The Royal Caribbean's Explorer of the Seas passes under the Verrazano-Narrows Bridge as it enters New York harbour January 29, 2014. [Photo/Agencies]
TIANJIN - America's Royal Caribbean Cruises Ltd has set up a staff training center with a Chinese college in North China's port city of Tianjin.
With an area of over 13,000 square meters, the center has training rooms for Western and Asian cooking, guest rooms and exhibition halls. It is located in Tianjin Maritime College.
Maria Del Busto, chief human resources officer of Royal Caribbean, said the company will have five new ships put into service for lines starting from China in the next couple of years.
The Chinese mainland hosted 285 international cruise ships and 660,000 inbound and outbound cruise tourists in 2012.
Tianjin gained official approval for a national cruise liner tourism development zone last year.
The international cruise home port in Tianjin was put into operation in 2010. It hosted 70 international cruise ships and more than 250,000 passengers last year.
The number of outbound Chinese tourists through cruises reached 560,000 last year, according to the China Communications and Transportation Association. The number is expected to exceed 700,000 this year.