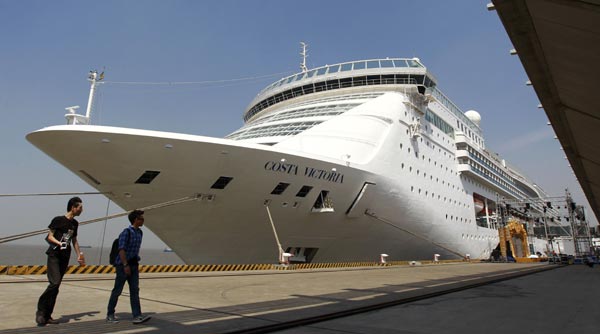 Debut of The Henna cruise in Sanya, Hainan province, on Jan 26, 2013. The Henna, operated by domestic operator HNA Tourism Holding (Group) Co Ltd, has worked four routes since January 2013 and new ones, including Xiamen-Taiwan and Tianjin-Japan, are planned. Huang Yiming / China Daily
Region promises 33 percent annual growth until the end of the decade, government says
China will become the Asia-Pacific region's largest cruise market by 2020, the government said. Some domestic operators are already digging for the industry's gold.
There will be 4.5 million cruise travelers in China by the end of the decade, representing 33 percent annual growth from 2013, according to a guidance of the Ministry of Transport on March 18.
Bohai Ferry Co Ltd, a listed shipper based in Shandong province, established a subsidiary for cruise operations in February.
Its first liner, to be re-christened Zhonghua Taishan (Chinese Mount Tai), was delivered at end-March and cost $43.68 million. It was bought from Italy's Costa Crociere SpA and arrives in China in May.
The 24,000 gross tonnage, mid-size, liner has 1,000 seats and was built in Germany in 2000. Its main work on nearby routes will include South Korea, Japan and Southeast Asian countries.
Bohai Ferry established a travel agency in 2013 to promote its liner business.
"It is necessary to upgrade our business and we will accumulate experience on cruise operations from this first liner," General Manager Yu Xinjian said.
Yu said his ambition lays not just in the second-hand liner business. Bohai Ferry wants to build or buy five-star luxury ships and be China's leading cruise operator.
China's cruise market grew rapidly in recent years. Statistics from the China Cruise and Yacht Industry Association show people made 1.4 million trips on cruise liners last year compared with about 10,000 in 2005.
"Traveler numbers soared these years and Chinese enterprises rushed into the business," association Vice-Chairman Zheng Weihang said.
Another domestic operator, HNA Tourism Holding (Group) Co Ltd, saw the passenger load factor of its first domestic vessel, the Henna, rise to 75 percent this winter from 60 percent at the start of 2013.