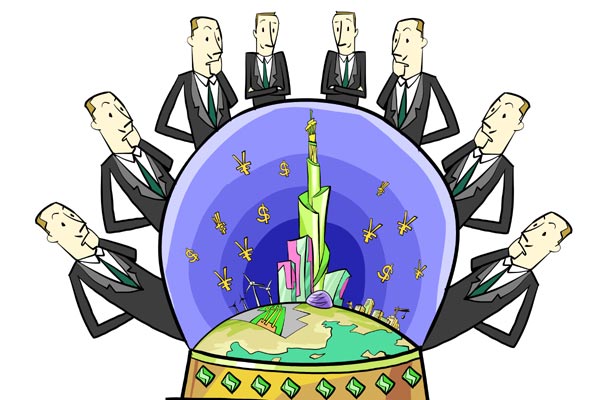 ZHANG CHENGLIANG/CHINA DAILY
Over the past three decades, China has been at the center of global economic growth and excitement, especially as host of the spectacular Beijing Olympics and Shanghai World Expo. Though China
still has a number of issues to deal with (corruption, wealth disparity, State-owned enterprises and pollution, to name a few), it has already shown tremendous capability to address them and evolve its system.
At current growth rates, in about 25 years China will be the world's largest economy but will still have a relatively low GDP per capita, meaning more growth is possible.
Despite some slowing down and uncertainties in the economy, I believe there are at least three significant forces that will fuel China's future growth: Going urban, going green, and going out. These factors will have a substantial influence on China's economic and industrial growth for a long time.
In the three decades since economic liberalization began, China's urban population has expanded by more than 500 million, the equivalent of the United States plus three United Kingdom's. China's cities, already home to more than half the country's people, are still growing fast. By 2030, Chinese cities will be home to about 1 billion people - about 70 percent of China's population.
As more and more people move into the cities, a lot more construction and infrastructure will be needed. By 2030, China will demolish more than half of its existing residential housing and will need 40 billion square meters of new residential and commercial space.
China will also add approximately 170 new mass transit systems and 55 major airports during that same period. This creates enormous demand for urbanization-enabling technologies such as sophisticated aviation and transportation infrastructure, smart grid solutions, building products, and related software and control systems.
Cities also need to be productive and economically dynamic. Businesses therefore must increasingly be better, faster, and more efficient. That need will generate strong demand for wireless and scanning technologies that can be used in both commercial and industrial applications.
China's urbanization will also create opportunities in residential markets. We expect to see the emergence of a gigantic market of 1 billion urban spenders as the country's middle class continues to expand. In fact, we expect that the fiercest competition will be selling to the middle class.
These increasingly affluent Chinese households will expect more innovative, technology-intensive home products that are high quality and moderately priced, such as water and air purifiers, humidifiers, fire alarms, and video door phones.
Pollution continues to be one of China's toughest challenges. Last year, Beijing's air on average was almost 10 times more polluted than levels considered safe. The World Bank says that 16 of the world's 20 most-polluted cities are in China.