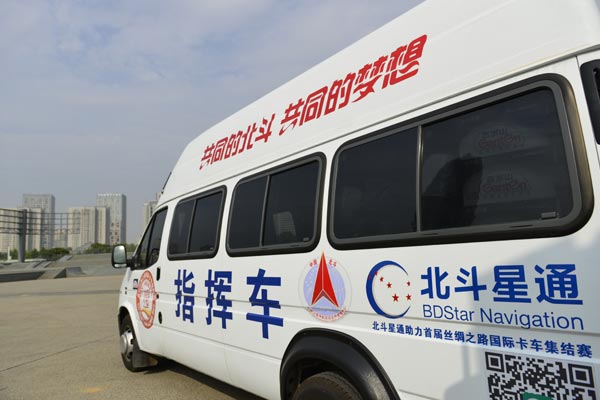 The Beidou navigating system van serves as the rally commander and takes the lead for the journey. [Photo/China Daily]
China's self-developed Beidou navigation system is being used to track and monitor the Silk Road Truck Rally to ensure driving security and fair competition, according to the event's organizing committee.
The
Mini
stry of Transport and the government of the Xinjiang Uygur autonomous region organized the event.
The rally covers six provinces and regions and drivers will take at least half a month to complete the route. The long distance and time frame means scientific and accurate data collection is key, according to an organizing committee official.
The navigation system will help ensure driving safety and offer accurate data to evaluate the performance of all the trucks.
"All vehicles are equipped with the Beidou navigation system, which enables the organizing committee to send instructions to all vehicles and track their location, speed, oil consumption and journey," said the official.
The system records information including truck position coordinates, local time and driving speed. It also gives warning signals for speeding, fatigue driving, emergency braking and deviation from the planned route, according to Zhang Dafu, project manager at BDStar Navigation, the system's developer.
"The system's precision is on a par with the GPS and incorporates nearby gas stations, dining and shopping locations and road information," said Zhang.
As part of the rally participants visited the Henan Bonded Logistics Center, in Henan province, and the Zhengzhou International Land Port, the starting point of an international rail connecting Henan's capital Zhengzhou, Xinjiang and Europe, on Aug 16.
Freight transport training representatives and rally participants from 12 provinces and cities attended a symposium on Aug 18 to promote more standardized and scientific freight transport training.
Participants also visited the Xi'an International Trade and Logistics Park in Shaanxi province on Aug 19 and were headed towards Yan'an, China's revolutionary base, on Aug 20.
The truck rally is a demonstration of the nation's achievements in modern logistics and transportation, according to the organizing committee.
It is a warm-up for the upcoming Silk Road Economic Belt Transportation Summit, which will be held during the fourth China-Eurasia Expo in Urumqi on Sept 2.