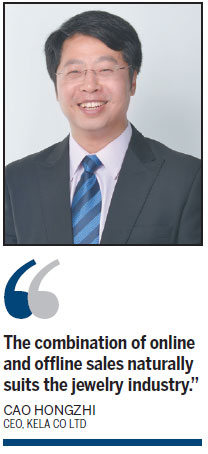 Q&A |
Cao Hongzhi
How do you spend your weekend amid your busy schedule?
As I have a tight schedule every working day, I usually spend my weekends with family, taking my sons to movies or going on an outing.
What are your hobbies?
Gym, swimming and reading.
What is the saying that you like the most? Why?
Social commitment and actions speak louder than words.
Who is your icon? Why?
Jack Ma, as he has done and is still doing something that makes a big difference in the world.
What book you are reading now?
The Goal: A Process of Ongoing Improvement by Eliyahu M Goldratt.
What do you consider your greatest achievement?
I have a nice family, a loving wife and two lovable sons.
What is the quality you most admire in a man?
Honesty and credibility.
What is your idea of perfect happiness?
Excel in my career, be good company to my family and have good health.
What is your greatest fear?
Losing my family or losing their support.
What is the quality you most admire in a woman?
Virtue.
What do you value the most in your friends?
Credibility.
What do you dislike most about your appearance?
I have put on some weight recently and am trying to fix it.
If you could change one thing about yourself, what would it be?
Keep working out.
What is your most treasured possession?
Family.
On what occasion do you lie?
For good purposes.
What kind of "green" lifestyle do you have?
Using Internet and e-commerce as much as possible for shopping to avoid traffic congestion.
Name places in China that have impressed you most and you have not visited but want to explore?
Tibet.
What's the best way to break the ice with a Chinese businessman you've met for the first time?
Talking about hobbies or children.
Three words or phrases to describe your impression of Chinese businessmen?
Eye only on short-term results, lack of the spirit of contract and avaricious.