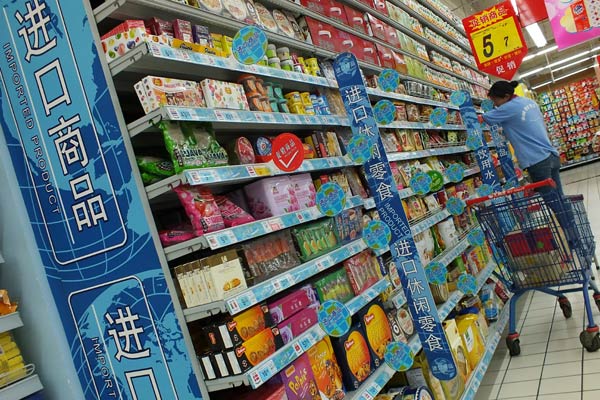 Imported foods section at a supermarket in Yichang, Hubei province. China's imports dropped unexpectedly by 2.4 percent, leaving a trade surplus of $49.8 billion in August.LIU JUNFENG/CHINA DAILY
China's trade surplus climbed to a record level in August as exports rose on the back of increased shipments to the United States and Europe, while imports fell for a second month as a slump in property sales hurt domestic demand.
Exports increased 9.4 percent from a year earlier, the Beijing-based customs administration said on Monday, compared with a 9 percent median estimate in a Bloomberg survey. Imports dropped unexpectedly by 2.4 percent, leaving a trade surplus of $49.8 billion.
Divergent directions for exports and imports show China is a long way from providing the global growth boost that IHS Inc this month said it would need to eclipse the US economy by 2024. Languishing domestic demand underscores risks to the government's economic growth target this year of about 7.5 percent as home prices and construction continue to fall, boosting chances of additional stimulus.
"A targeted cut in mortgage rates is looking more and more likely," said Shen Jianguang, chief Asia economist at Mizuho Securities Asia Ltd in Hong Kong. "If the weakness in the property market can't be reversed, it will be difficult for the government to reach its annual growth target of 7.5 percent."
Sustaining export gains may also be challenging because geopolitical risks are weighing on Europe's economic outlook, said Shen, who formerly worked at the European Central Bank.
Exports to the US climbed 11.4 percent in August from a year earlier, while shipments to the European Union increased 12.1 percent. Imports from the US declined 3.1 percent.
"We expect exports to remain healthy as conditions in developed markets continue to improve," Julian Evans-Pritchard, China economist at Capital Economics Ltd in Singapore, wrote in a note. "Meanwhile, subdued commodity demand is likely to remain a drag on import growth going forward."
Exports are being helped by US economic growth that rebounded to a 4.2 percent annualized pace in the second quarter of the year, with measures of consumer confidence and manufacturing rising in August, and construction spending increasing in July from the previous month by the most in two years.
The trade surpluses will put pressure on the yuan to appreciate "in order to avoid international tension", Louis Kuijs, chief greater China economist at Royal Bank of Scotland Group Plc in Hong Kong, said in a note.
China's leaders have taken steps to support growth this year, including expediting railway spending, cutting some taxes and freeing up money for loans for agriculture and small businesses. At the same time, they have shied away from stronger measures, such as lowering interest rates and reserve requirements for banks nationwide.
Should downward pressure on growth intensify in coming months, "we would not rule out a shift to a bolder approach, with more general and higher profile measures" to support expansion, wrote Kuijs, who previously worked at the World Bank.
Monday's figures follow indications in data last week that manufacturing is slowing. The official Purchasing Managers Index fell to 51.1 in August, and a similar gauge from HSBC Holdings Plc dropped to 50.2, both from 51.7 in July.
Apple Inc's new version of the iPhone may boost China's exports by about 1 percent a month for the rest of 2014, Bank of America Corp economists, led by Lu Ting in Hong Kong, said in a note last week. The company will announce a range of new products on Tuesday.