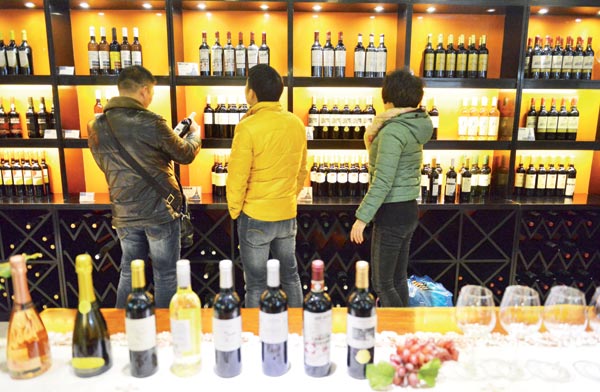 Customers select imported wine at a shopping mall in Yiwu, Zhejiang province. Lu Bin / For China Daily
As domestic winemakers corner more of the market, foreign brands are still fine-tuning their sales strategies
Taking a measured sip of a vintage Bordeaux, Libin Gao swirls the dark liquid in his mouth, pausing to reflect before scratching down a few notes on the form beside him.
It's a Saturday afternoon in Beijing and class is in session. For Gao and the 12 other students occupying Dragon-Phoenix Wine Consulting's packed 8th floor classroom it's a chance to make Chinese wine history.
Gao, a member of the pilot program that teaches Level-three Wine Spirit Education Trust Certification in Mandarin, will, on successful completion of the course, become one of the highest-ranked wine experts in China.
As regional manager for Joyvio, Lenovo's food and agriculture venture, Gao knows that getting an international certification would give him an upper hand in one of China's most lucrative industries.
"In the Chinese market right now, much of the focus is on the packaging of wine. I want to be a part of the movement that will shift the focus from packaging to what's actually in the bottle," Gao says, during a five-minute breather from the eight-hour class.
For Gao, the course is a chance to gain a competitive edge. But for wine producers, changing the way Chinese perceive and drink wine is a necessity for an industry that is undergoing tumultuous change.