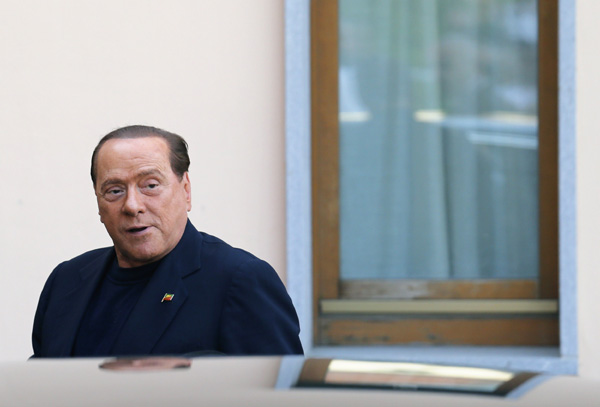 Former Italian Prime Minister Silvio Berlusconi looks on as he arrives at the Sacred Family Foundation, where he will serve part of his one-year tax fraud sentence by doing community service with the elderly, in Cesano Boscone, a small town on the outskirts of Milan May 9, 2014. [Photo/Agencies]
CESANO BOSCONE - A sombre and silent Silvio Berlusconi entered a Catholic old people's home outside Milan on Friday to begin community service as part of a one-year sentence for tax fraud.
Berlusconi, at 77 still the most influential politician of Italy's centre-right, had a four-year jail sentence handed down last August commuted into an obligation to spend four hours a week for a year at a centre for the elderly.
The billionaire media tycoon and former Italian prime minister arrived in the morning in a black sedan with darkened windows, wearing his trademark dark suit.
Ignoring around 200 Italian and foreign journalists, Berlusconi left bodyguards outside as he entered the Sacra Famiglia centre, a sprawling structure caring for the elderly and mentally ill.
"I think all this media attention is excessive, given that he's not coming here because he wants to help those suffering from Alzheimer's disease, he's here because he was forced to come," said a man who works as a volunteer at the centre and only gave his name as Mario.
The obligation to do community service does not bar Berlusconi, who was expelled from Italy's Senate after the conviction, from campaigning for his Forza Italia party ahead of European Parliament elections this month.
Opinion polls suggest Forza Italia could command just short of 20 percent of the vote, making it Italy's third largest party after the centre-left Democratic Party led by Prime Minister Matteo Renzi and the anti-establishment 5-Star Movement.
Sabatina Carlone, a Berlusconi supporter who came with her husband and 18-month nephew in a show of support said, "We came because we are in love with him as a leader. This is not justice, it's a mockery. The president (of Italy) should have pardoned him."
After completing the first six months of community service, Berlusconi's sentence of one year of community service will automatically be reduced to 10 1/2 a half months.