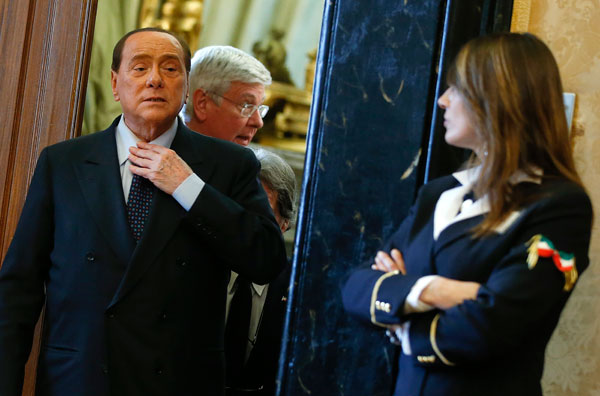 Leader of Forza Italia party Silvio Berlusconi arrives to talk to reporters at the end of the consultations with Italian Prime Minister-designate Matteo Renzi (not pictured) at the Parliament in Rome, Feb 19, 2014. Centre-left leader Renzi began the delicate task of trying to form a new government on Tuesday, facing questions about how he will fill key ministerial posts and the details of his ambitious reform agenda. [Photo/Agencies]
ROME - A northern Italian court on Tuesday finalized four-time prime minister Silvio Berlusconi's divorce from his estranged wife Veronica Lario, but the amount the billionaire will have to pay in alimony has yet to be settled, a legal source told Reuters.
Lario, a former actress who was married to Berlusconi for more than 22 years, asked for a divorce from the 77-year-old billionaire in 2009, accusing him of having an affair with a 17-year-old girl.
The couple had three children together.
In October, the court in the city of Monza halved the amount Berlusconi may have to hand over to Lario, to 1.4 million euros ($1.93 million) per month from 3 million euros previously, but a final ruling on spousal support is still pending.
Berlusconi remains the leader of his Forza Italia party, an opposition group that is the country's largest right-wing bloc, but he will begin serving a year's sentence, either in public service or under house arrest, in a few weeks time after being convicted of tax fraud last year.
Berlusconi also is currently appealing a ruling from last year that convicted him of paying for sex with an underage prostitute during so-called "bunga bunga" parties at his villa near Milan.
His new girlfriend, 28-year-old Francesca Pascale, said in September that she wanted to marry Berlusconi, who first caught her eye when she was a teenager.