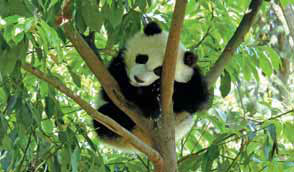 A panda rests on a tree at Bifengxia Base of the China Giant Panda Protection and Research Center in Ya'an, Sichuan province. Li Wei / Xinhua
Being a panda caretaker could be the most enviable and fun-filled job in the country.
Xinhua News Agency reported on Sunday that a caretaker at the China Giant Panda Protection and Research Center in Ya'an, Sichuan province, will earn 200,000 yuan ($32,000) a year, have the use of an SUV and receive free meals and accommodation.
Recruitment for the position started on Saturday in Beijing and one of the organizers, club.sohu.com, called the job the "Chinese version of a caretaker of an island on the Great Barrier Reef".
"Your work has only one mission: spending 365 days with the pandas and sharing in their joys and sorrows," organizers said.
Applicants should be at least 22 years old and have some basic knowledge of pandas. They should also have good writing skills and the ability to take pictures, according to the recruiters' requirements.
"Many people at our center do the same job, but the salary was never that high," said Heng Yi, a publicity official at the panda center. "But we want more people to pay attention to giant pandas' protection work and participate."
The campaign will also recruit eight panda observers for a free three-day trip to the Bifengxia base.
Volunteers at the center, who account for 80 percent of the base's staff, are mostly from Japan, Europe and the United States, Heng said.
Ye Mingxin, a market manager for Ford Motor Co in China, a co-organizer of the recruitment campaign, said he does not think the job is easy.
"You need perseverance for this job. We expect that the applicants will be mainly white-collar workers from big cities. They are used to eating whatever they want, but inside the giant panda base, the choices will not be plentiful," Ye said.
People can apply for the job at fun.sohu.com. Recruiting drives will also be held in Shanghai, Chengdu and Guangzhou and will last until July 15.