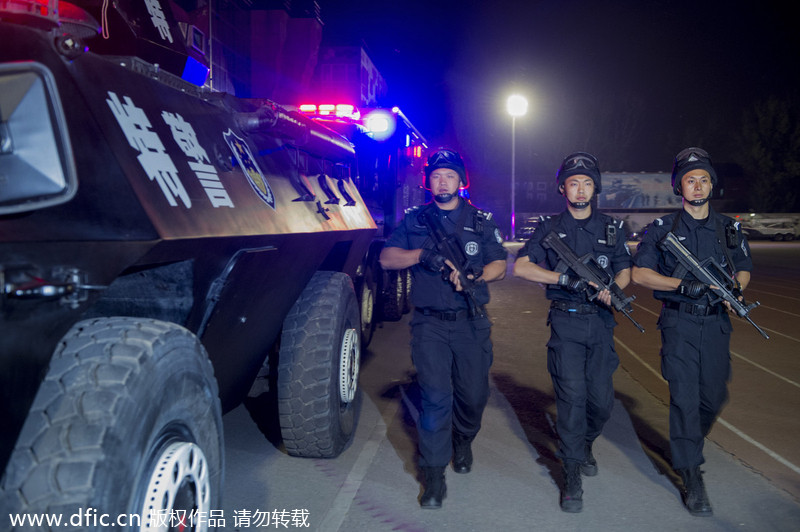 Beijing police patrol the northern part of the capital starting on Thursday night, May 8, 2014. [Photo/icpress.cn] 
In an effort to beef up security and improve anti-terrorism preparedness, an armored team has begun patrolling the Chinese capital, according to Beijing News.
Starting at 9:00 am on Monday, a total of 150 armored patrol vehicles were sent to the main streets of Beijing, with each vehicle equipped with nine policeman and four auxiliary police officers.
The patrolling corps will become the city's primary force to crack down on terrorists, mass violence and gun crimes, said police officials.
Each vehicle is assigned to patrol a street with the length of no more than three kilometers. The armored patrollers are required to reach the scene within three minutes whenever they receive the call to deal with terrorism or violence incidents.
The move to deploy a strong armed force to patrol Beijing streets came as part of the nation's campaign to strengthen security in crowded places across big cities.
Armed police patrols were enhanced nationwide after a violent incident on Tuesday, May 6 when six people were injured in a knife attack in Guangzhou Railway Station. It was the third attack targeting innocent people at a railway station in just two months.
The Ministry of Public Security ordered extra patrols to begin on Tuesday night, with an increase in the number of officers and a requirement that security devices - video surveillance equipment, scanners and the like - be checked to ensure everything is in good working order.
Li Juan, a professor of public security and an anti-terrorism expert, said that such inspections and patrols must be regular and permanent features of public safety, not merely a short-term campaign, though the immediate move by high-level officials was positive.