Health examinations of all 93 workers in a construction site in Nanjing, Jiangsu province, where lost radioactive iridium-192 was retrieved, showed normal results on Sunday, local officials said.
"The environmental bureau received the information about the missing iridium at 2 am on Friday and immediately formed a response team, together with police," said Zhang Shida, director of the Nanjing environmental bureau's nuclear and radiation management department.
The iridium-192 went missing on Wednesday morning during a monitoring operation by Tianjin Hongdi Engineering Inspection Development Co Ltd, at a construction site near Puliu north road in Luhe district.
After narrowing down the search area to 2 square meters on Saturday morning in brushwood 1 kilometer from the construction site, the team managed to retrieve the radioactive source around 5 pm.
Police have detained four workers from Tianjin Hongdi and said they were responsible for losing the Ir-192 on Saturday afternoon.
To guarantee safety, each of the 10 people sent to the area wore protective clothing and were allowed to search only for about two minutes.
The bracelet-shaped iridium-192 source, which is about the same size as a soybean, was put in a lead container and taken away.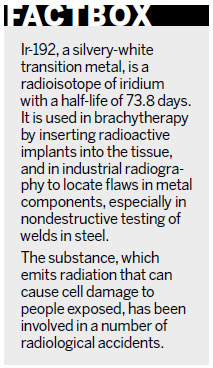 "The Ir-192 won't have a radioactive effect on the environment after being removed," said Zhang. "Its radiation cannot stay in the environment or pass from one person to another."
However, the environmental bureau said the source was wrapped in a plastic bag, which means someone might have touched and discarded it.
"The harm caused by Ir-192 depends on how long and how strong the radiation is," said Tang Shuangling, director of the radiation prevention and environmental protection department under Nanjing University of Science and Technology.
Tang said people should not pick up metals and should avoid touching illuminant substances before having them tested by professionals.
Although information about the missing radioactive metal began to spread on the Internet starting Friday evening and was forwarded more than 10,000 times, the news was not officially released until noon Saturday.
Huang Huanjing, a Nanjing resident, said information on missing radioactive substances should be released to the public immediately so that people can be cautious and prepare for possible danger.
"Though I've already had many worries in my life, radiation is definitely the last I would expect," said the 35-year-old man.
Contact the writers at cangwei@chinadaily.com.cn and songwenwei@chinadaily.com.cn