If you want to get some idea just how important China has become as a luxury consumer market you don't have to go further than the recent Beijing auto show.
What started out as a low-key event in 1990 has grown into the biggest and most important stage for the world's auto makers, especially those at the luxury end where models are tailored to China's affluent.
Wander the streets of Beijing and Shanghai and you are sure to see BMWs, Mercedes-Benzes, Porsches, and Ferraris - just about any top-end auto brand that comes to mind.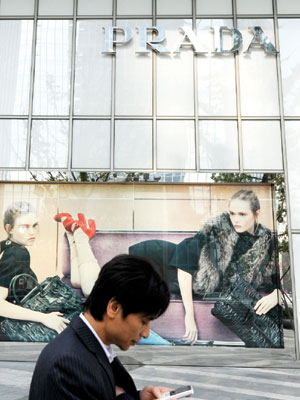 A man outside a Prada luxury store in Chengdu, Sichuan province. The explosive growth of China's emerging middle class has brought sweeping economic change. AFP
By 2020, China is expected to be the world's biggest luxury auto market, according to Dan Ammann, president of United States auto giant
General Motors
, who shares this view with many of his compet
ito
rs in
North America
and
Europe
.
The explosive growth of China's emerging middle class has brought with it sweeping economic change and social transformation and will continue to do so, says global consulting firm McKinsey & Co. By 2022, more than 75 percent of China's urban consumers will be earning 60,000 yuan ($9,600) a year.
McKinsey says that in terms of purchasing power, that is between the average income of Brazil and Italy.
In 2000, just 4 percent of urban Chinese households were within that range.
Analysts say the middle class and upper middle class will be the principal engines of consumer spending in the decade ahead.
More than a third of the money spent around the world on high-end bags, shoes, watches, jewelry and ready-to-wear clothing now comes from Chinese consumers either domestically or abroad when they travel.
Within the next year, Chinese tourists could be spending as much as $194 billion annually in Europe, the US, Asia and other vacation spots, according to Morgan Stanley in a research note on luxury companies.
Chinese travelers are already the world's biggest spenders, according to the United Nations World Tourism Organization.
The UN group says that by next year the number of Chinese travelling abroad will exceed 100 million, although some analysts say that may happen this year.
Earlier this year, The Economist said: "How much China spends is striking. Even more so is the way it spends".