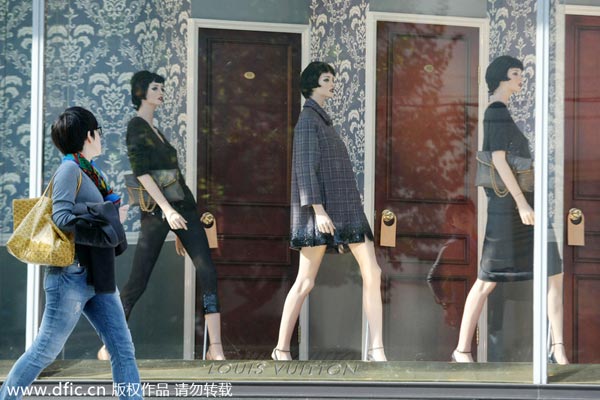 A trendy young woman walks past a fashion boutique of Louis Vuitton (LV) in Shanghai, China, Oct 28 2013. [Photo/dfic.cn] 
BEIJING -- Buying luxury products is one of the major reasons for Chinese to travel abroad, a sign that the country's increasingly rich population will boost worldwide luxury sales, the China Youth Daily reported on Friday.
Some 64.6 percent of Chinese tourists bought luxury products during their travel to Hong Kong in 2013, 46 percent while in
Europe
and 33.4 percent while in the United States, the report said, citing data from online travel service Travelzoo.
In comparison, only 12 percent of China's inbound tourists bought luxury goods in 2013.
The report said a high disparity in such products' price tags between the Chinese and overseas markets is the major reason. China charges 30 to 40 percent as tariffs for imported luxury products, raising the price in China.
Tax rebate policies also help drive Chinese tourists' purchases abroad, said the report. It estimated that overall tax rebates from European countries to Chinese tourists can add up to 3 billion euros annually.
Binge shopping is often associated with increases in Chinese outbound travel as many Chinese choose to go abroad during the National Day and Spring Festival holidays, with the two major vacations lasting up to seven days.
A previous report issued by Bain Capital drew an identical conclusion. Of the money Chinese spent on luxury products in 2013, two-thirds of it was spent abroad, it said.