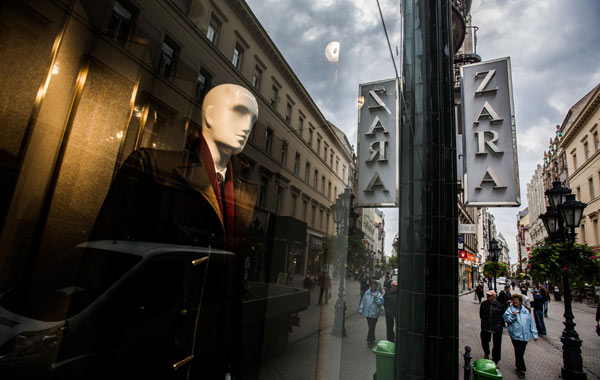 Zara hired a group of experts that monitors its global logistics system to ensure that any order received from China would be handled directly by its Spanish headquarters. The drive to win new Chinese online customers helped Spain's Inditex SA, owner of the Zara brand, to deliver an enviable first-half balance sheet. [Photo / Agencies]
Popularity of cross-border online shopping rising among urbanites
Chinese bargain-hunters spent a record amount with domestic Internet retailers during last year's Double 11 sales, but they are eyeing a new marketplace overseas.
"Cyber Monday" and "Black Friday" are no longer unfamiliar terms to China's price-savvy middle class. A growing number of English-speaking credit card holders have joined the international fray.
"It's quite simple. You just register an account, pick out the goods, choose a form of delivery and pay for it," said Chen Chengzi, a regular at overseas online shopping.
The popular trend of cross-border online shopping is being spearheaded by a number of shopaholics who understand how to buy things overseas. They usually choose items with price differences or things that tend to be unattainable in China.
The e-commerce landscape has also attracted foreign brands that are extending their footprints via online stores to capitalize on the fertile international market.
For example, a drive to win new fashion-conscious customers via the Internet helped Spain's Inditex SA, owner of the Zara brand, to deliver an enviable first-half balance sheet.
Zara has undertaken a big online push since 2010, starting in its home country Spain and spreading to other European countries. Last year, it also launched e-commerce sites in the United States and Japan.
In addition, such fast-fashion brands as H&M, US retailer Gap Inc and Japanese brand Uniqlo also have sought to enter China's e-commerce sector over the past two years.
However, each company has chosen a different approach.
Zara said it hired a group of experts that monitors its global logistics system to ensure that any order received from China would be handled directly by its Spanish headquarters.
Unlike Zara, which operates its website entirely on its own, Uniqlo chose to outsource part of that operation to third-party vendors.
Upon payment, for example, users are redirected to a page tailor-made by Alibaba Group's most popular online marketplace, where transactions and deliveries are fulfilled through the Taobao channel.
Meanwhile, Gap has a hybrid model, with a self-run website on the platform of Tmall.com, the business-to-consumer branch of Alibaba.
A rapid pickup in overseas online purchases has been steered by a policy change allowing third-party payment platforms to offer cross-border consignments.
The green light given by the China State Administration of Foreign Exchange last year enabled people to handle foreign sales and make business purchases.
Chinese consumers can buy products on international websites using domestic third-party payment platforms. There is no need for them to worry about dual-currency credit card issues.
Improvements in logistics also have played a major role.
Shipping products directly from an online shop's main warehouse can be costly for both buyer and the seller. But intermediary logistics firms have come to the rescue.
Foreign fashion brands have to integrate fast search functions, offer popular promotions and, most important, launch China-specific products that are unique to the sites, said Burghardt Groeber, vice-president of Hybris AG's Asia-Pacific branch in Hong Kong, a provider of multichannel commerce software.
"What we are seeing is a growing tension between an authorized site on Tmall and the company's original site. If merchants sell certain items only through the original channel, there will be less dependency on Tmall in the long run," he said.