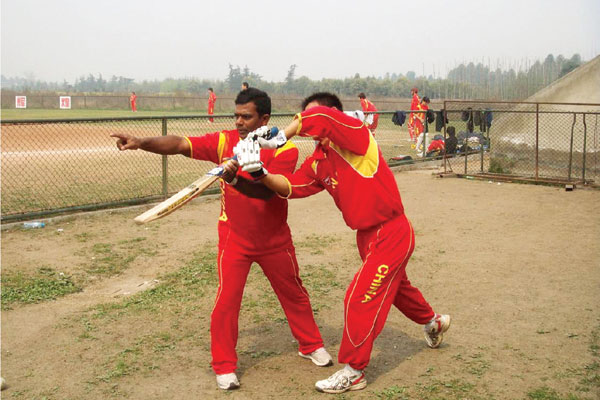 Mohammad Aminul Islam trains a member of the Chinese national cricket team. The former Bangladeshi captain believes that China needs to become part of the "cricket movement" for the game to become a truly global sport. Photos Provided to China Daily Asia Weekly
With 650 million viewers across more than 25 countries, cricket is the second-largest sport in the world in terms of viewership.
However, Mohammad Aminul Islam, development officer at the Asian Cricket Council for China believes that the country needs to become part of the "cricket movement" for the game to be a truly global sport.
"China has to play cricket for the game to be the No 1 sport in the world," the 46 year old tells China Daily.
"If the largest country, with a population over 1.3 billion, does not play, that is a huge loss for the game," he adds. "Think of a China and India cricket match. The sheer size of viewership would be the envy of any advertiser and sponsor. They will qu
eu
e up."
Islam was Bangladesh's captain during the 1999 Cricket World Cup in which the country notched wins over Scotland and Pakistan.
But he shot to fame when he hit a century (145 runs) in Bangladesh's inaugural test match against India in 2000, the second-highest in a nation's debut after Charles Bannerman's 165 for Australia in the first ever official test match.
After playing for eight hours and 55 minutes, Islam was the last man out, in what became his greatest achievement in a 15-year international career. Because of a ligament injury, his career was cut short, with 39 one-day internationals and 13 test matches.
"Prior to the test match I was not sure whether I was going to play or not. I was 32 years old and suddenly I got into the team and got fame."
He played his last game for the country in December 2002, and moved seamlessly into coaching.
Islam says China now has a great opportunity to show the world that it is truly a sporting nation.
In 2009, for the first time, the professional Chinese cricket team participated in a representative tournament, the Asian Cricket Council Trophy Challenge, and registered a comprehensive victory by beating Myanmar by 118 runs.