Efforts stepped up in a bid to hit unchanged targets
China is determined to fulfill its new-energy auto ambitions, according to senior government officials.
"The national campaign of developing energy-saving and new-energy vehicles will remain unchanged and so will the priority for electric vehicles, the target of their development and the government's favorable policies," said Minister of Science and Technology Wan Gang.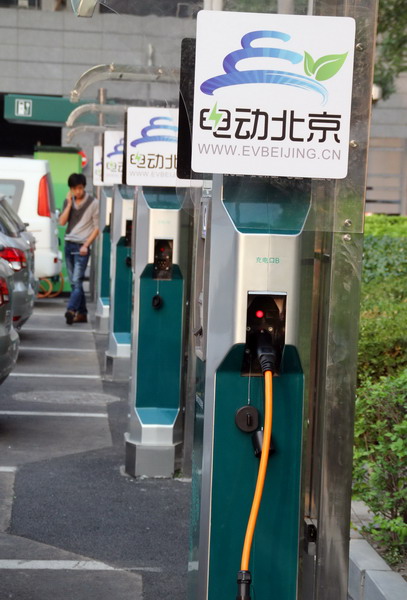 The first pure electric car leasing station in Tsinghua Science Park in Beijing, where 15 electric charging poles were set up. The city government plans to complete construction of 1,000 public fast-charging poles by the end of the year, covering both downtown areas and suburbs. WU CHANGQING/CHINA DAILY 
Wan said the country's current industrial standards can meet the demand for electric vehicles production and that another 100 standards will be formulated and released in the next two years.
Wan made the remarks at the founding ceremony of an organization dedicated to promoting the development of electric vehicles on May 5.
The China Electric Vehicle Council has 100 members including auto experts and representatives from the power, Internet and telecom industries as well as government officials who appear in private roles. The council was established at the suggestion of former vice-premier Li Lanqing.
"Strictly speaking, it is a non-governmental organization. The most important function is to serve as a platform where members from different industries can discuss topics related to electric vehicles and come up with relevant research results," said Wang Binggang, head of an organization under the Ministry of Science and Technology that supervises major electric vehicle programs, in an interview with the 21st Century Business Herald.
"It will have influences on the government but it is not a government department," said Wang.
The organization was established in response to the belief that China would not achieve its goal of producing and selling 500,000 new-energy vehicles by 2015.
Statistics from the China Association of Automobile Manufacturers show that China produced 17,533 new-energy vehicles in 2013 and sold 17,642 in the year.