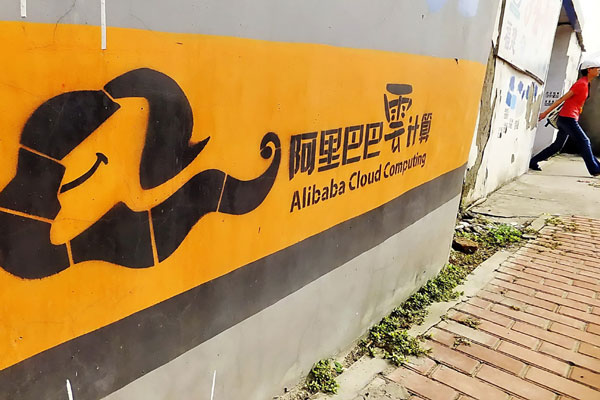 A logo of Alibaba Group's cloud services in Hangzhou. The group launched a data center in Hong Kong on Monday. Jing Wei / For China Daily
As it prepares for IPO, e-commerce conglomerate eyes overseas markets
Alibaba Group Holding Ltd on Monday launched a data center in Hong Kong, the first step to taking the e-commerce giant's cloud services outside the Chinese mainland and challenging global players such as Microsoft Corp and Amazon Web Services Inc.
The new center will serve local and Southeast Asian customers, according to the company's cloud computing unit. Towngas Telecom, a subsidiary of Hong Kong's largest gas company, is operating the facility with Alibaba.
"Overseas clients will enjoy more options and faster connection speed," a company statement said, adding that even more cloud services targeting overseas markets will soon be launched.
"Chinese enterprises, such as application developers, are eagerly looking at expanding into Southeast Asia," the statement went on, noting that it was the main reason Hong Kong had been chosen for its first offshore data center.
The city's role as a global financial hub also will provide customers in the company's banking, insurance and security sectors, it said.
Alibaba is looking to serve Chinese enterprises that seek to go abroad as well as overseas companies that wish to target Chinese users, said Wang Wenbin, head of Alibaba's cloud unit.
The launch of the new data center came less than a week after Alibaba's cloud unit launched a similar facility in Beijing.
Alibaba has two other data centers: one in Hangzhou, its headquarters, and Qingdao in Shandong province.
Analysts said Alibaba's aggressive moves in the cloud will help the company tap into markets outside the Chinese mainland. But it must first fend off such rivals as Amazon, Microsoft and IBM Corp, the world's top cloud providers.
"Alibaba's lower price point and better understanding of Chinese consumers will give it advantages when challenging overseas cloud providers, even though foreign companies have edged out their Chinese competitors in technology," said Ernie Hu, China head of IBM's software unit.
Government-funded projects and State-owned enterprises are the biggest customers for global vendors, while Alibaba mainly serves the private sector.
"Cloud services are fundamental for all kinds of online businesses," said Liu Duo, vice-president of the China Academy of Telecommunication Research, a government-backed think tank. "Chinese companies, such as Alibaba, should grow their own ecosystem if they want a share in the future Internet world," he said.
Although online retail businesses contributed the most to company coffers over the past year, Alibaba's growing cloud business booked $90 million in revenue from April to December, according to its IPO filing.
Alibaba has been busy beefing up its international business as it is prepares for a massive initial public offering in the United States. In February, it opened a Hong Kong-registered business-to-consumer website selling imported products to mainland shoppers.