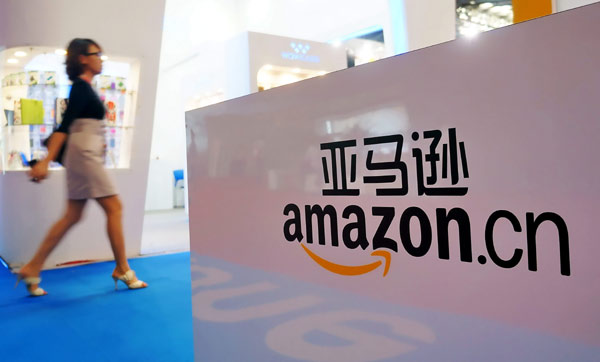 An Amazon banner displays at an electronic exhibition on June 28, 2012 in Shanghai. [Jing Wei / Asianewsphoto]
US company's announcement to provide new services setting off price wars, influx of vendors, Meng Jing reports
Amazon.com Inc made quite a splash in mid-December by announcing it will extend its cloud-computing services — Amazon Web Services — to China, beginning with a limited preview in early 2014.
Hours before Amazon's official announcement, Aliyun, the cloud-computing arm of China's e-commerce king Alibaba Group Holding Ltd, said it will cut the price of its services by up to 35 percent. Hours later, IBM jumped on the bandwagon and announced it is teaming up with a local partner to provide high-end smart cloud services to enterprise users in China.
It appears that a war has been declared in China's small but potentially huge cloud computing sector with the arrival of Amazon Web Services. However, as a popular and globally dominant cloud service provider, it is said it will only level up the overall cloud computing system in China rather than simply cutting itself a big share of the market.
"Amazon Web Services is a quite mature cloud-computing service provider. It is expected to act as a catalyst in China's cloud-computing industry. Its presence in China will not only bring healthy competition but will also help build up a better cloud-computing system," said Evan Zeng, a Beijing-based analyst with Gartner Inc, a US information technology research and advisory firm.
Although Amazon, which has built up its business empire through e-commerce, has never revealed the size of its cloud-computing business, research by Gartner in August estimated its revenue was larger than the combined sales of the other 14 cloud service vendors, including IBM Corp and Microsoft Corp.
Even Jeff Bezos, the founder and chief executive officer of Amazon, said at a conference in November that cloud computing could be the company's biggest business in the future as the demand for cheap computing and storage power keeps rising.
With AWS, Amazon claims it is filling a hole in the Chinese market. "We started to work on this (cloud computing) about 10 years ago. We have been getting good at running highly reliable, cost-effective datacenters," Andy Jassy, senior vice-president of AWS, said at a recent Beijing news conference, where he announced that China will be the fourth part of the Asia-Pacific region and the 10th region globally to get access to Amazon's cloud-computing service.
He admitted that there are many competitors that offer cloud-computing services, but Jassy emphasized that "they cannot get the experience AWS has until they get to the same point on the learning curve".
Amazon's strong confidence is probably the main reason behind Aliyun's feisty behavior of not only lowering its prices for cloud services but also providing 100 million yuan ($16.39 million) of incentives to support the development of all participants in its cloud computing supply chain.
Aliyun OS is a Linux distribution designed for smartphones based on the Android Open Source Project. It was developed by AliCloud, a subsidiary of Chinese company Alibaba Group.
Although many Chinese companies offer cloud services, including Baidu Inc and Tencent Holdings Ltd, Aliyun is the one under the most pressure from AWS, said Qian Lili, an analyst with Analysys International.
Alibaba has been called the "Amazon of China". It has also been making more moves to become a one-stop shop for small and medium-sized enterprises conducting business online. That includes online marketplaces, back-end e-commerce merchant services and its own cloud-computing platform.
According to Qian, the upcoming limited preview of AWS in China may not be able to completely change the market landscape of the cloud-computing industry in China but it can certainly push some small players out of the market.