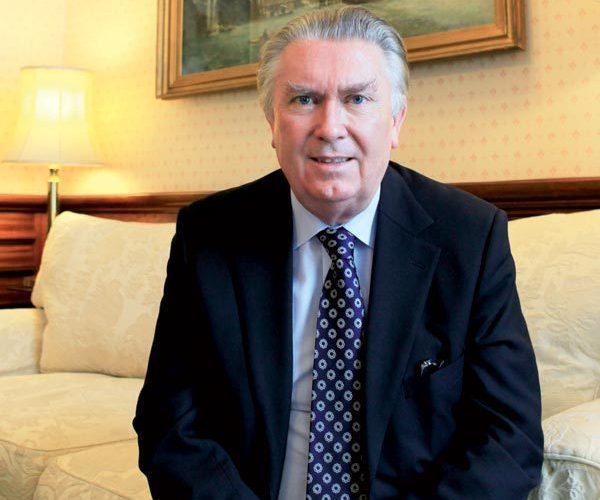 Paul Judge says the Western world can learn from China about the ideas of long-term views and loyalty to one's company. Cecily Liu / China Daily
Making the effort to build long-term relationships with Chinese investors can help British companies unlock more opportunities, says British millionaire and city veteran Paul Judge.
Judge, Sheriff of the City of London, but more famous for being the key benefactor of the University of Cambridge's Judge Business School, says building trust is an inherent part of the Chinese business mentality.
"People in China want to get to know each other before they really do serious business. It is much more important in China than here in the West, where you may just do business with somebody you have met via email.
"In China, of course, you write a lot of emails, but the personal interaction again is much more important, which has a lot of strengths to it, I think."
Judge, a former director general of the Conservative Party and chairman of the Royal Society of Arts, has had a multifaceted business career.
After 13 years with Cadbury Schweppes, he led the buyout of that company's food operations to form Premier Brands, becoming its chairman. He later held many public and private appointments, and represents many UK companies and associations even today.
Given his influence in the British business world, Judge is now taking on a new challenge, that of connecting businesses between the UK and China.
Believing that UK businesses are missing opportunities to work more closely with their Chinese counterparts, Judge and his long-time friend Richard Heygate together established the 88 initiative, a venture designed to initiate more deals. The network had its first meeting last year.
The idea is to connect UK financiers and entrepreneurs with young Chinese entrepreneurs in the UK who are very well connected to an older generation and more wealthy entrepreneurs.
As the older generation of Chinese entrepreneurs spoke little English and knew little of international markets, they may have been reluctant to invest in the UK, but trust with the younger generation Chinese entrepreneurs may change all that.