Li arrives in Britain for official visit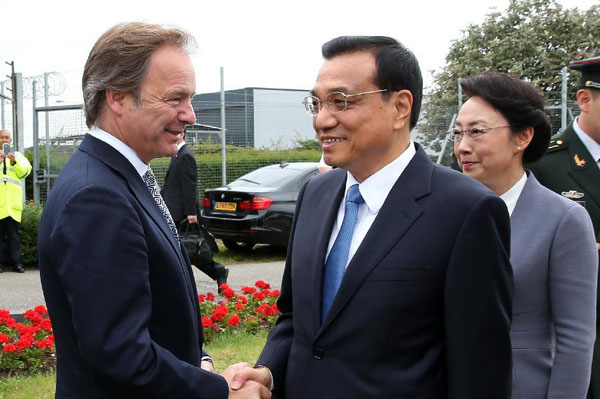 Chinese Premier Li Keqiang and his wife Cheng Hong arrive in London for an official visit to Britain, June 16, 2014. [Photo/Xinhua] 
LONDON - Chinese Premier Li Keqiang arrived here Monday for an official visit to Britain, with a series of cooperation deals worth 30 billion U.S. dollars expected to be signed.
During his stay in London, Li will meet Queen Elizabeth II and hold an annual meeting with British Prime Minister David Cameron.
The Chinese premier will also attend China-UK Global Economic Round-table and the China-UK Financial Forum, give a speech to top British think tanks and meet with business leaders from both countries.
The trip is Li's first visit to Britain since he took office in March last year, and another major diplomatic event between China and Europe following President Xi Jinping's tour in late March.
Li's tour comes as China and Britain are celebrating the 10th anniversary of their strategic partnership. "The visit will further cement China-Britain political trust, enhance cultural exchanges and cooperation in nuclear power, high-speed railway, finance and high technology, and bring vitality and new content to the bilateral partnership," Chinese Vice Foreign Minister Wang Chao told a press briefing last week in Beijing.
Observers in China view the visit as a sign that both countries have managed to ride out a rough patch in their relationship that started with Cameron meeting the Dalai Lama in May 2012 despite Beijing's objections.
Britain is China's third largest trading partner in the European Union and second largest investment source as well as a major destination for China's overseas investment. Two-way trade topped 70 billion dollars last year.
The visit is the first leg of Li's two-nation trip to Europe, which will also take him to Greece.