China and Greece offer cultural 'window' between East and West

Editor's Note: Ahead of Premier Li Keqiang's visit to Athens, his second stop on a brief European tour, Greek Prime Minister Antonis Samaras tells China Daily of his expectations for the visit.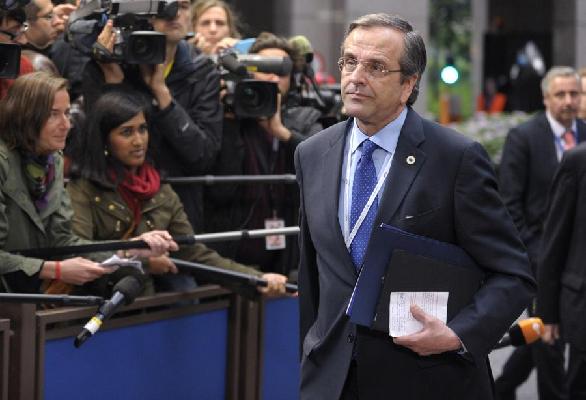 Greece's Prime Minister Antonis Samaras arrives at an informal summit of European Union leaders in Brussels May 27, 2014.  [Photo/Agencies]
1. What has been achieved so far in Greece's recovery from the effects of the global financial crisis?
Two years ago, Greece was on the verge of collapse, uncontrolled default, a forced exit from the euro and social explosion.
Now all these calamities seem so "distant".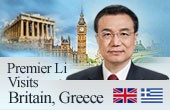 We have achieved the most spectacular fiscal correction ever, in the shortest time. Last year we produced a primary surplus in our budget, we covered all government expenses, except for interest payments on our debt.
By the end of next year, we are predicted to eliminate our budget deficit altogether, covering interest payments as well.
In the meantime, we have controlled our exploding debt and completely reversed our prolonged recession. This is the first year of recovery, after six consecutive years of a falling GDP. And in 2015 and 2016 we are predicted to score remarkable growth rates of 2.9 percent and 3.7 percent respectively. Unemployment, already very high, has started falling for the first time in more than six years.
At the same time, we have implemented sweeping, competitiveness enhancing reforms. But what is probably more outstanding, is that we have stabilized the country, both economically and politically.
Two years ago, Greece was considered the "weakest link" in the European Union and the most unstable spot in the Eastern Mediterranean. Today it has emerged as the most stable country in the destabilizing region of Eastern Mediterranean, while it successfully holds the six-month rotating Presidency of the Council of the European Union.
It has been two amazing years, of an unprecedented turnaround. It has also been two painful years, of unbelievable sacrifices by the Greek people. But we made it. A number of countries stood on our side, during this difficult period. China was one of them. I cannot express how much we appreciate that and how grateful we feel.
Trying moments forge long term friendships among people and among nations too.
2. What are you expecting from Li Keqiang's visit? What are the specific arrangements?
Greek people and Chinese people have been friends for ages. In the past 42 years we have been constantly building our political ties which become stronger and stronger. In 2009 there was an important Chinese investment in the major Greek port of Piraeus that proved a "game changer" for years to come.
Last year, we started a closer working relationship and it seems that we are advancing on projects mutually beneficial for both of us, actually beneficial for both China and the European Union at large.
Greece is best positioned to be the "gateway" of Europe for international trade with the Far East and the Middle East, all the way through the Suez Canal and the Mediterranean, to and from the markets of central and Eastern Europe.
But this requires investment on a number of infrastructure projects, like major ports, highways and railways. We have already made a good start with the Piraeus port and now there are plans to expand in many directions.
Shipbuilding is another area of mutual interest, together with maritime industry in general. After all, 15 percent of the world's sea trade is conducted by vessels under Greek ownership. And tourism is an area of cooperation already expanding, with a very high potential.
Greece is the "natural" first step for Chinese visiting Europe and Greek civilization offers outstanding attractions for people who can really appreciate time transcending culture. Perhaps Chinese people can appreciate what Greece has to offer in this field, better than others, since they themselves are very proud of their own civilization. After all, "Si-la" in your language literally means "the other civilization".
You see, culture is not "something of the past". It is a dynamic phenomenon which defines people today and generates strong spiritual relations between countries.
Lastly, there is a strong commercial element to the economic relationship we are building step by step. Greece is the home of the "Mediterranean diet". A host of Greek agricultural products, really unique - raw, processed and manufactured - can be introduced to the Chinese market, extra virgin olive oil, feta cheese, excellent wines and various herb products.
We have identified a number of areas of mutual interest, we have an on-going process of discussing specific investment plans, trade agreements and expanding our cooperation. We are moving step by step. But we are making tangible progress and we are building a solid relationship with enormous prospects for both countries.