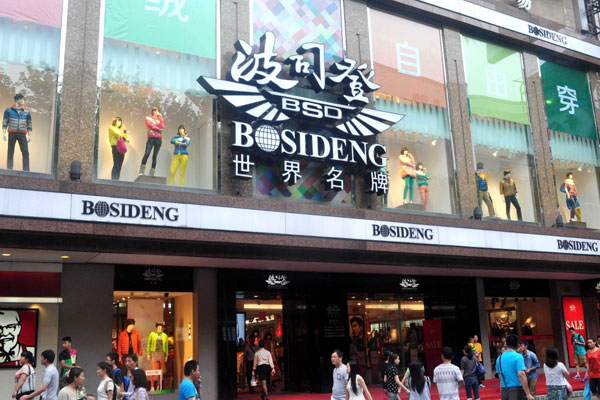 An outlet of Bosideng International Holdings Ltd in Shanghai. The Shanghai-based clothes retailer announced recently it was terminating contracts with its British buyer and design teams. Yan Daming / For China Daily
Bosideng International Holdings Ltd, one of China's leading fashion retailers, once again finds itself in the news and once again with less than positive media coverage.
As recently as a week or so ago the Shanghai-based clothes retailer, the largest in China with over 13,000 stores, announced it was terminating contracts with its British buyer and design teams. Apparently, Chinese designers based in Shanghai will now replace the British designers and incorporate more Chinese content and style into future collections.
A shift in some manufacturing from Europe back to China was also announced recently.
This latest announcement comes after Bosideng wrapped up the 4 million pound ($6.7 million) acquisition of
Gree
nwoods, the 88-store loss-making UK menswear retailer, in October last year.
On both occasions, Bosideng received considerable criticism from a skeptical media, which questioned the lucidity of the company's strategic direction and brand management.
But are these both really strategic errors of the dangerous magnitude portrayed in the press? Or has Bosideng provided examples of sound strategic thinking and erudite rebranding?
If we take the Greenwoods takeover first, Bosideng surprised many with the purchase of a retailer whose position in the UK clothing marketplace could not be further from the luxury brand image Bosideng enjoys in China and seeks to emulate in the United Kingdom with its flagship London outlet.
But the Greenwoods brand image should not tarnish or interfere with the Bosideng luxury brand in any way. Surely Greenwoods will retain its own distinctive bargain brand position and no public association with the corporate brand will be put on show. Economies of scale are also quite likely in manufacturing and buying. And as for the 2.4 million pound loss recorded for 2013 and the 4 million pound purchase price - both represent minor risk. Bosideng reported a gross profit of $763 million for the financial year ending September 2013.
Bosideng's takeover of Greenwoods, therefore, is not a strategic error but rather a shrewd, subtle move aimed at building a diverse product and brand portfolio essential for sustainable success, domestically and internationally.