Bosideng bets on building global brand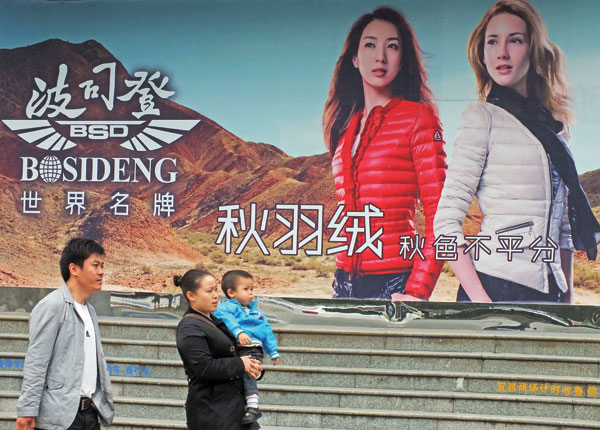 People walk in front of a billboard for the Bosideng clothing brand in Yichang, Hubei province. [Photo/China Daily] 
Chinese clothing firm Bosideng International Holdings Ltd aims to accelerate its expansion in Europe after setting foot in Britain, reports Ding Qingfen in London
While all Western retail brands are talking about investing in emerging markets, led by China, Chinese down jacket maker, Bosideng, has its sights set in the opposite direction.
Last summer, the world's largest feather jacket manufacturer announced it was buying a six-story property near busy Oxford Street in London's West End for 21 million pounds ($33 million). Occupying the building's ground and second floors, Bosideng opened its men's wear flagship store in London in July, its first store in Europe and its first abroad.
But Bosideng's ambition doesn't stop there. It is accelerating its pace of expansion in Europe, which still leads the global fashion industry, although it is losing economic growth momentum.
"We are considering expanding our business and entering high-end shopping malls in London, probably early this year," Zhu Wei, CEO of Bosideng Corp UK, told China Daily.
And not just in London. Zhu said the down jacket producer is in talks with some European counterparts, probably from Italy, on acquisition deals.
"Through cooperation, we could help them enhance their presence in China, and they could assist Bosideng in making inroads into Italian and other European markets," Zhu said, declining to elaborate.
The company is also reportedly targeting expansion in the United States, where it has a sales presence, looking for a store property in New York.
Zhu said the six-story London building, at 28 South Molton Street, one of the city's most prestigious and expensive retail addresses, is "iconic".
Covering a floor area of 1,600 square meters and housing stores, offices and apartments, the building is opposite London's famous department store Selfridges, and near two subway stations.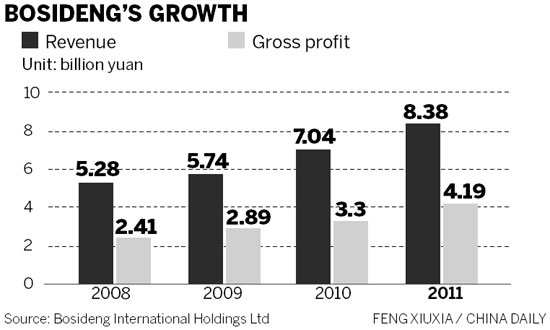 The company will invest about 8 million pounds to reconstruct the three-story store, Zhu said.
"The building is the first foray that Bosideng has ever made abroad, and through the landmark building, we expect to enhance our brand popularity and reputation," he said.
Bosideng Chairman and CEO Gao Dekang once said: "The acquisition of the property is an important move by Bosideng in its expansion into the international market and development into a world-famous brand."
With about 12,000 stores at the end of September, Bosideng has been tapping the domestic market since its foundation in 1975.