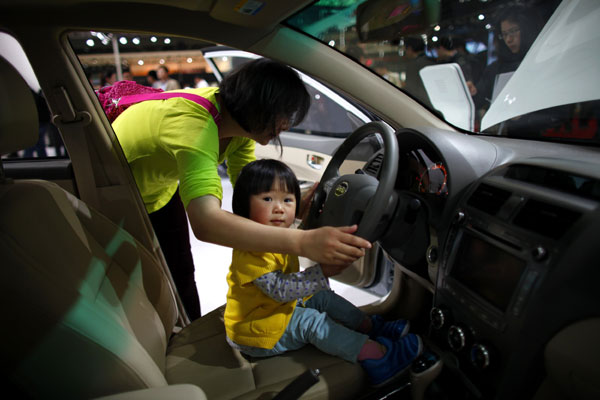 A girl sits in a BYD car in the 15th Shanghai International Automobile Industry Exhibition, last year. [Carlos Barria / Reuters]
Move called a breakthrough against local protectionism
Chinese automaker BYD received the green light to roll out its flagship new-energy models in Beijing and Shanghai, a move signaling a major breakthrough in smashing the trade barriers by local governments to protect their own "green" vehicle industries, experts said.
"The approval has increased the market space for new-energy carmakers, promoting the development of the domestic electric vehicle sector, because local governments tend only to support their own car factories and discourage other non-local car makers to enter the market," said Wang Binggang, an electric vehicle expert.
Beijing's Municipal Commission of Economy and Information Technology released on Wednesday a list of Chinese new-energy automakers and products to encourage the wider use of
green vehicle
s. BYD's all-electric E6 model was added to the list as well as those of its major rival, the Beijing-based BAIC Motor.
BYD, backed by billionaire investor Warren Buffett, also received approved to sell its plug-in hybrid, the Qin, in Shanghai, according to Shanghai's municipal government. The Qin model is priced at about 160,000 yuan ($26,107). For each purchase, a customer can receive a subsidy of 33,250 yuan from the government, the statement said.
A spokesman for BYD was unable to comment, but earlier reports quoted Wang Zhuangfu, BYD's chief executive officer, saying local protectionism was a major reason that hindered the development of electric cars. BYD, a pioneer in developing electric cars in China, has struggled to win subsidies in other major cities. Its electric and hybrid models have entered the markets only in Shenzhen and Tianjin cities and Shaanxi and Hunan provinces.
Its flagship E6 model is priced at 370,000 yuan and can receive subsidies of 120,000 yuan for each car sold in Shenzhen, where the company is based. Buying the same car in Beijing means the purchaser would have lost out on the Shenzhen subsidy before the latest approval decision.
"Without the subsidies, many people would shy away from purchasing new-energy cars," Wang said. The domestic new-energy vehicle sector has gained a huge boost from government support and financial aid as the country seeks to cut emissions to combat the heavy air pollution that has plagued Beijing and many northern and central cities.
The Chinese government recently renewed its policies for electric vehicles for next two years to cut emissions. Beijing aims to have in place around 1,000 charging units in some 100 stations this year, up from 20 stations now.