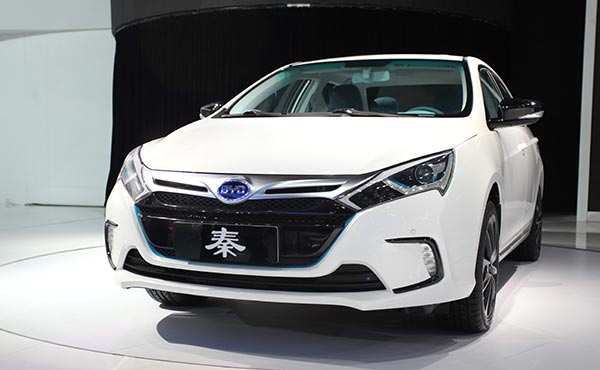 BYD Qin has an all-electric range of 70 km and a hybrid powertrain that can extend the car's total range to a distance similar to that of a conventional gasoline-powered vehicle. [Photo/China Daily]
BEIJING - Shares of Chinese automobile maker BYD soared on Wednesday on stock exchanges after its new energy sedans were granted access to the markets of Beijing and Shanghai.
It's good news for the Shenzhen-based auto giant, and also signals that the sector has started to break the local protectionism that has hindered its development for years.
BYD's shares listed on the Shenzhen stock exchange surged soon after market opening on Wednesday, and finished at 53.42 yuan ($8.73) per share, hitting the 10-percent ceiling set by Chinese regulators.
The rise happened against the cross-boarder lackluster performance on the two bourses and was attributed to the latest breakthrough of the carmaker in squeezing its environmentally friendly models into Beijing and Shanghai's new energy vehicle market.
On Wednesday, Beijing's Municipal Commission of Economy and Information Technology released a list of companies and products covered by a government program to encourage the use of new energy cars.
BYD's pure electric E6 appeared on the list, together with a model manufactured by BAIC Motor, a Beijing-based firm.
Shanghai's municipal government on Tuesday included Qin, a plug-in electric car model made by BYD, on its list for promoting new energy car use, according to a statement.
The Qin model sells at a market price of around 160,000 yuan, and each buyer will receive a central government subsidy of 33,250 yuan, according to the statement.