New-energy vehicle policy shifts gears
China adjusted its subsidy program for new-energy vehicles on Tuesday, with the scope and depth of the policy narrowing.
The move is in line with earlier remarks made by a senior official indicating that the country would shift the direction of the financial backing program for the sector.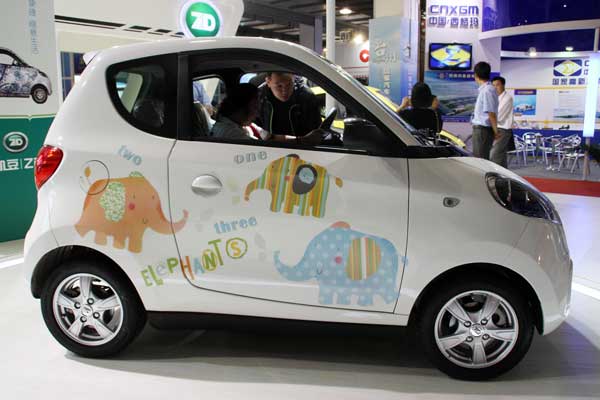 Customers examine an electric car at an exhibition in Beijing on Saturday. The government plans to have at least 10,000 new-energy vehicles sold between 2013 and 2015 in each of the country's megacities, according to the guideline for the electric vehicle industry.WU CHANGQING / FOR CHINA DAILY
The long-awaited blueprint, which was issued by four ministries led by the Ministry of Industry and Information Technology and the Ministry of Science and Technology, will resume the three-year purchase incentive that ended last year, in a bid to help electric vehicles gain further traction.
But the announcement did not, as widely expected, include conventional hybrid vehicles in the subsidy category, a move that industry observers said is critical to the proliferation of "green" cars.
The metropolitan areas surrounding Beijing, Shanghai and Guangzhou — the country's manufacturing and business hubs — will be prioritized by the new policy. The addiction to fossil fuel is high and air pollution is serious in those areas, observers said.
The central government plans to have at least 10,000 new-energy vehicles sold between 2013 and 2015 in each of the country's megacities and their neighboring regions, while other cities are set to get 5,000 units each during the same period.
The new directive sets even stricter criteria on electric vehicles' sources of origin, stipulating that 30 percent or more of cars purchased should come from a non-local automaker. No discriminative measures should be taken to favor domestic brands and squeeze out non-local players, the document added.
"The policy will effectively rule out unfair competition against non-local brands, which is a common practice in the new-energy car segment," said Wen Hu, marketing director of Jiangsu Alfa Bus Co Ltd.
Government procurement of new-energy vehicles is also encouraged, the document said, suggesting that 30 percent or more of new cars for public transportation, public affairs, logistics and environmental sanitation purposes should be fuel-saving ones.
The new guidelines still define new-energy cars as pure electric battery cars, plug-in hybrids and fuel-cell vehicles, leaving out the more conventional gasoline-electric hybrids from the subsidy scope.
In the previous program, which ended on Dec 31, the government offered a 3,000 yuan ($490) rebate to a buyer of new gas-electric hybrid cars, way below the 60,000 yuan handouts for all-electric battery cars.
The current policy suggests that various government departments hold contending views on the priority of electric vehicles, with some favoring all-electric cars and others opting for hybrid vehicles, said Wang Tianwei, policy director of the policy coordination department of Jiading Auto City in Shanghai, an international model zone for the development of electric vehicles.
Jochem Heizmann, chief executive officer of Volkswagen Group, told Reuters in April that plug-in hybrids will have much better prospects to achieve a certain volume than purely electric cars over the next decade.
In terms of subsidy depth, the extended policy provides equal treatment to buyers of battery-driven vehicles in 2013, who are entitled to a rebate of up to 60,000 yuan. Buyers of plug-in hybrids will receive up to 35,000 yuan.
The more costly fuel-cell vehicles for passenger and commercial uses will enjoy 200,000 yuan and 500,000 yuan subsidies, respectively, this year.
The incentives will be reduced by 10 percent in 2014, and an additional 10 percent the year after. Only electric and plug-in hybrid buses are exempt from the reduction.
The policy sends out a clear signal that Beijing is poised to de-emphasize policies to simply give subsidies for vehicle purchases and wants to encourage the research and development capabilities of the country's main automakers, according to industry observers.
Wan Gang, minister of science and technology, told an international forum on electric vehicles in Shanghai in May that direct government incentives for consumers may be phased out by 2020, if operational expenses can be contained and the market expanded.
He added that the industry can only be sustained by raising technology levels and lowering costs.
"These are of course fine-tuning measures in the long run. But more aggressive policies at the current stage are needed to genuinely help people embrace a new-energy car craze," said Wen.
The country started offering handouts to buyers of electric cars three years ago, aiming to put 500,000 new-energy vehicles on the roads by 2015 and 5 million by 2020.
But just 12,791 such vehicles were sold last year, according to the China Association of Automobile Manufacturers. By the end of March, China had around 39,800 electric vehicles, about 80 percent of which were used for public transportation.