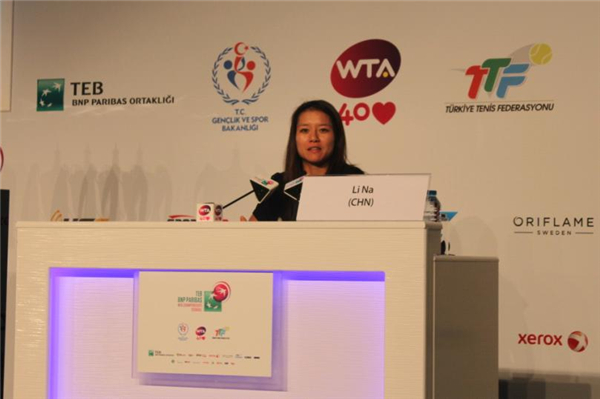 China's Li Na attends a news conference ahead of the start of the WTA Championships in Istanbul, Turkey, Oct 21, 2013. The world's top female tennis players will compete in the championships which runs from Oct 22 until Oct 27.[Yan Weijue/chinadaily.com.cn]
Despite bagging only one WTA title so far in 2013, Li Na still rates this season as the best of her 14-year career.
Even better than 2011 when the breakout Chinese ace became the first Asian to win a singles Grand Slam in the French Open.
For Li, the definition of best tilts more to consistency and a brief spurt of success.
"At least this year I was feeling good at beginning of the year. I always stayed at the same level. Maybe 2011 I won a Grand Slam, but (as for) other tournaments I had no good result," said Li at the All-Access Hour of the WTA Championships in Istanbul on Monday.
Li has given convincing performances at this year's majors. She finished as runner-up at Australian Open, reached the quarter-finals at Roland Garros and made it to the semi-finals for the first time at the US Open.
What's more impressive is Li has reached the quarter-finals or better 11 our of 14 WTA events in 2013 prior to the Championships, which catapults her to a 2011-tying No 5 spot in the ranking.
Li continues weighing in how she has grown to be a better player than before, contributing to the maturity in controlling the tempo of her game.
"I think, how you say, special this year. I was feeling I can control myself more. It's not like before, you know."
There is still one more thing she can outdo her old self -- making it to the semi-finals or even better for the first time in three years by winning at least two of three round-robin matches against Vitoria Azarenka, Sara Errani and Jelena Jankovic.
"The tournament is only for top players. Everyone is tough. No easy match at all. (But) I'll always try my best on the court."