Natural gas and renewables will power country's economic growth
Natural gas and renewable energy are poised for boom times in China over the coming decades, and they'll be key factors in the development of the nation's economy, a global energy agency said on Wednesday.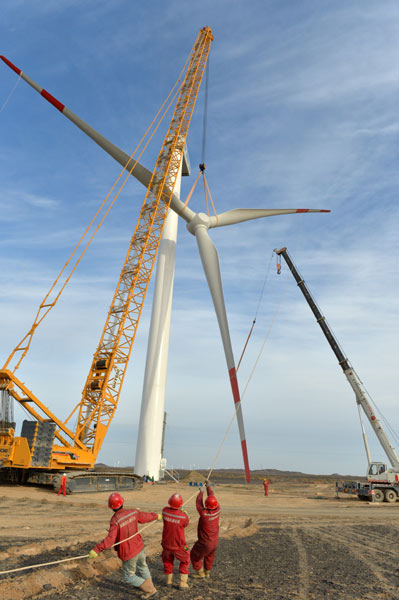 Turbine blades are hoisted onto a windmill at a wind farm in Hami, in the Xinjiang Uygur autonomous region. Xinjiang is one of the biggest wind-power generating regions in China. The country is trying to increase the proportion of renewable energy in its total energy consumption mixture. [Zhang Jiangang / for China Daily]
China's natural gas consumption will quadruple by 2035, becoming a driver of global demand for the fuel, according to a report released by the International Energy Agency in Beijing.
China consumed 147.1 billion cubic meters of natural gas in 2012, up 13 percent year-on-year.
"The rapid development of unconventional natural gas will continue to benefit North America, which is looking for opportunities to export these resources in the form of liquefied natural gas," said Maria van der Hoeven, executive director of the Paris-based IEA.
China is the largest potential buyer of that LNG.
Along with eastern Africa, Australia and North America, China will be an active participant in global natural gas trading, which will propel diversification of that market.
In most parts of the world, it's cheaper to generate electricity with coal than with natural gas.
But efforts to cut air pollution, address climate change and improve energy efficiency will determine the future of these two fuels.
There's no doubt that China's coal consumption will ease as the central government strives to raise the percentage of natural gas in its primary energy mix, the report said.
According to the IEA, China's coal use will peak in 2025. India will become the world's largest coal importer in the 2020s, replacing China.
China's natural gas development is playing a big role in the country's drive to improve its air quality.
"China's natural gas output has maintained double-digit growth in recent years, with an average annual growth rate of about 13 percent in the past 10 years," said Zhou Jiping, chairman of China National Petroleum Corp, the country's largest natural gas producer.
He said that the company will continue to increase natural gas imports, with more investments in pipelines and LNG projects.