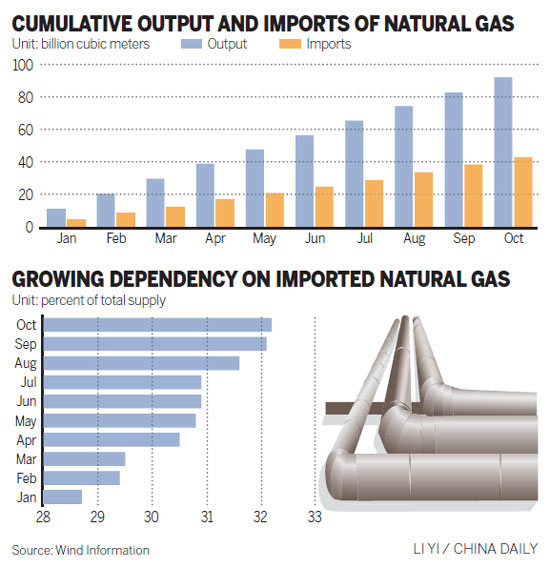 The company, which operates about 70 percent of China's natural gas pipelines, invested about 300 billion yuan ($49 billion) from 2010 to 2013 in pipeline construction.
The nation's natural gas pipeline network totals about 55,000 kilometers. But Zhou said it still lags those of developed countries.
Renewable energy will account for half of the increase in global electricity generation by 2035, with wind and solar power to account for 45 percent of the increase among renewables, said the report.
China will be the biggest country in terms of renewable generation by 2035, producing more electricity through those methods than the European Union, the United States and Japan combined.
"China is working hard to raise its renewable energy use among the total mix, aiming to improve the country's air quality and cut emissions," said Gu Jun, deputy director of the international division of the National Energy Administration.
China isn't a member of the IEA, but Gu said that China will work more closely with the agency on energy issues.
The IEA and six emerging economies - China, India, Russia, South Africa, Brazil and Indonesia - have signed a joint declaration involving closer cooperation with regard to global energy challenges.
"As the global energy map is redrawn, the IEA's 28 member countries face many of the same energy challenges as key emerging economies, and we all share a common interest in building a secure, sustainable energy future," said Van der Hoeven.
"This is why the IEA has always attached such high importance to working with such dynamic countries outside our membership as China."