Ningbo has opened China's first school of elderly care and management as the nation copes with the growing number of senior citizens.
The school, at the Ningbo College of Health Sciences in Zhejiang province, has five departments, including elderly nursing, nutrition, and linguistics and auditory rehabilitation, said Jia Rangcheng, deputy president of the college. The school has 450 undergraduates.
Graduates are expected to work in community service centers, nursing homes and at healthcare agencies, Jia said.
According to a Chinese Academy of Social Sciences report, the population above the age of 60 reached 200 million by 2013. Among them, 37.5 million are unable to care for themselves and more than 100 million do not have children or relatives to take care of them.
More majors, such as elderly services and elderly healthcare, are being planned. The school also provides short-term professional training courses for those who are already working in these fields, Jia said.
Wan Yawei, deputy mayor of Ningbo, said the school meets the rising demand for professionals who can care for the elderly in China.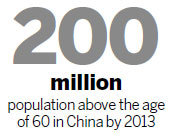 "There is no larger market than this one, and you cannot find a more urgent social demand than in this market," Wan said.
Wan said China needs many elder healthcare professionals, but that there are only 100,000 such professionals.
"Nurses caring for the elderly work long hours and use a lot of energy during their shifts, despite the poor social status associated with these jobs. This is why China lacks so many such professionals," Jia said.
Chen Yunqi, deputy chairman of the Gerontological Society of China, said the lack of an occupational certification system has failed to encourage students to take up this line of work.
Jia said the school will focus on cultivating students majoring in elderly care and management to not only fill the market demand but educate more people about senior healthcare around the country.
"By systematic education and granting them certificates, more people can be motivated to take this job."
Jin Lei, a freshman at the school's elderly nursing department, said her family supports her choice because they think it is a promising job.
"This line of work isn't popular in the country right now. With fewer people doing it, I will have greater opportunities to make a difference," she said.
Contact the writers at shixf@chinadaily.com.cn and yanyiqi@chinadaily.com.cn