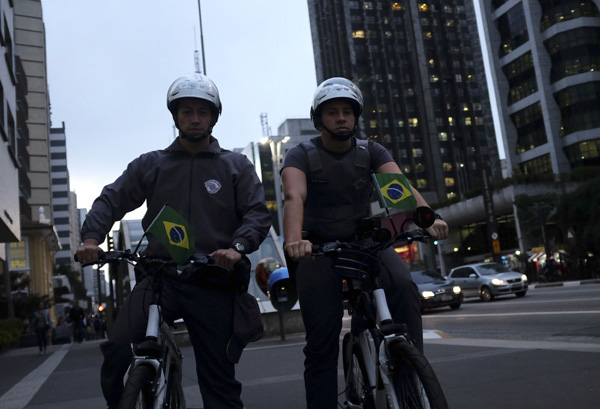 Police officers patrol on bicycles with Brazilian flags as they pose in Paulista Avenue, the financial centre of Sao Paulo, June 2, 2014. The city of Sao Paulo will host the opening match of the 2014 Brazil World Cup. [Photo/Agencies]
BRASILIA - Brazilian president Dilma Rousseff has reiterated her pledge to ensure the safety of competing teams, officials and fans during the World Cup.
The government earlier this year announced plans to spend 800 million US dollars on the largest ever security operation for football's premier tournament.
More than 170,000 soldiers, police and private security personnel are expected to be deployed in Brazil's 12 host cities.
"To all Brazilians and visitors, I can ensure that the security structure that we have organized is going to give everybody the peace of mind necessary to stage a successful tournament," Rousseff said during a ceremony in which she was presented with the World Cup trophy from FIFA president Joseph Blatter.
Rousseff also repeated her desire for the anti-racism message to be a theme of the June 12-July 13 event.
"I invite all Brazilians and international visitors to be partners in this World Cup against racism, for peace, without discrimination," she said.
Blatter stressed the event would provide Brazil with more than just a chance to showcase its footballing might.
"Brazil is a world football power but it is also now an economic force," Blatter said. "We are sure that this event will give Brazil an extraordinary opportunity to promote itself over the course of more than a month, while the eyes of the world are watching.