World Cup spurs sales of colorful sport wigs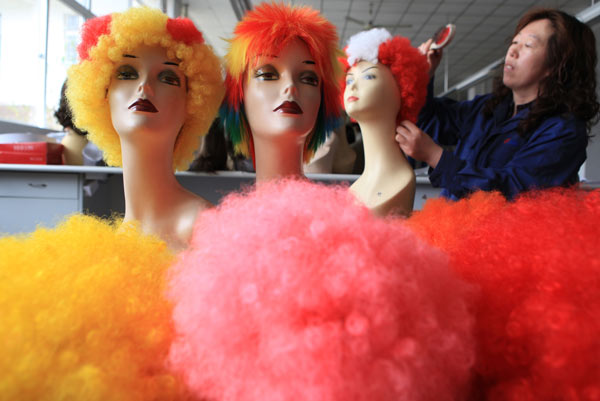 Workers of Jifa Group in Jimo city of East China's Shandong provinceare making wigs for the upcoming FIFA World Cup. Liang Xiaopeng / For China Daily
As the 2014 FIFA World Cup in Brazil approaches, fans all over the world are gearing up to cheer for their teams, and colorful sport wigs are always on their purchase list. And the surge in orders for them at a major manufacturer in China proves it.
"Thanks to the World Cup, orders for sport wigs have gone up by 20 percent in the past two months," said Liang Xiaopeng, a spokesman at Jifa Group, a 60-year-old hair product and garment manufacturer in Qingdao's Jimo city, East China's Shandong province.
Inside the plant, the colors of the various wigs make it resemble a big summer garden.
"Many colors represent national flags. This Brazil wig is designed in three layers - blue, yellow and green," Liang said.
The company produces more than 200 varieties of fun wigs, with half of them designed by their own designers. The other half is made in accordance to clients' custom-design requirements, he said.
Sport wigs and other colorful wigs are designed to help set the ambiance of an event. Apart from sporting events, festivals like Halloween and major carnivals also stimulate sales of those wigs.
"Young people always love to wear fun wigs to show their team spirit and stand out from the crowd," he said.
Liang said the company sells 150,000 wigs each year and usually sport wigs and costume-party wigs account for a small portion, 20,000 to 30,000. But when there is a big event, sales soar and Liang expects about 50,000 wigs will be sold this year. To meet the demand, 2,000 people work at full speed in the factory.
Jifa's wigs are mainly sold in US and European markets at an average retail price of between $20 and $30.
Sun Yongwei, Jifa's production manager, said sport wigs are usually made of chemical fibers instead of genuine human hair to lower the cost. Human-hair wigs could cost hundreds of dollars.
Since the northern hemisphere is entering summer, wig designers have chosen light-net foundations to ensure air permeability.
"Chemical-fiber wigs should not be worn for more than three consecutive hours or people will become uncomfortable. But human-hair wigs can easily be worn much longer, and they won't deform for months, or even one or two years," Sun told China Daily.
Producing wigs requires more than 30 separate processes, including the making of the foundation, hair preparation and styling. Several key steps must be done by human hands, such as adding hair to the foundation with hooks. A stylist will then comb and trim the wig as if working on a real head. It takes several years to become a skilled wig technician.
Most human-hair wigs are sold at stores, and specialized hair parlors and salons because they often require fitting and further adjusting.
Wigs are becoming increasingly popular as a fashion accessory because many celebrities - such as Lady Gaga and China's Fan Bingbing - wear them to enhance their features.
Although Jifa Group has grown by building a more diversified product portfolio and with high-tech inventions such as high-liquid absorption chitosan fiber extracted from shrimp or crab shells to produce absorbable sutures, wigs are what the company started with and the company is still a dominant force in the industry, said Liang. Overseas sales of its hair products reached $50 million last year and the company controls two-thirds of the world's male wig-market, he said.
Ma Weixin contributed to the story