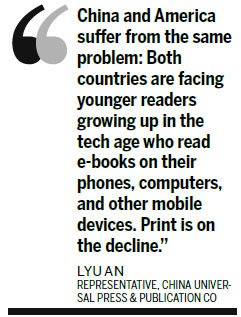 Chinese publishers, like their American peers, have suffered from the tech revolution. Almost half of US readers under the age of 30 read an e-book in the past 12 months. In recent years, China has tried to capture the American publishing market.
In a study from the Open Book Reader Survey in 2013, 62 percent of all readers preferred printed books while 38 percent preferred e-books. A survey last year from the Pew Center for Research showed 69 percent of adults read a book in print, while 28 percent read an e-book, and 14 percent listened to an audio book.
BookExpo America 2014, the largest annual industry trade fair in the US, took place on May 29-31 at the Javits Center in New York. It featured more than a dozen Chinese publishers, including China Universal Press & Publication Co, based in Beijing, and China Press, the umbrella for San Francisco-based China Books. Long River Press, and Cypress Books, also based in San Francisco, and CN Times Books from New York exhibited as well.
"China and America suffer from the same problem: Both countries are facing younger readers growing up in the tech age who read e-books on their phones, computers, and other mobile devices. Print is on the decline," said China Universal Press & Publication Co exhibitor Lyu An, 26.
That has an impact on the profit and survival of publishing houses, Lyu said.
According to Liu Yajun, assistant general manager of China Universal Press & Publication Co, counterfeit e-books have been on the Chinese market as long as counterfeit DVDs. Many of China's younger generation read e-books on their smartphones, many of which are illegally downloaded.
"I own a Kindle, and I click a button and buy e-books from Amazon," Lyu said, but a lot of younger Chinese people aren't willing to buy books when they can find ways to read them for free.
"At the American Expo, compared to books from other countries, I think Chinese books are special because they are local to China, and educate others about China's traditional history, which spans 5,000 years," Liu said.
He said new Chinese contemporary arts, culture and science still need an opportunity to spread to other countries.
"We need more people with English as their mother tongue who can do translations from Chinese to English to join in cultural sharing, in accordance with US markets and trends," Liu said.
He explained that English and Chinese are two of the most widely spoken languages in the world, so the US and China need to make peace in the market and share.