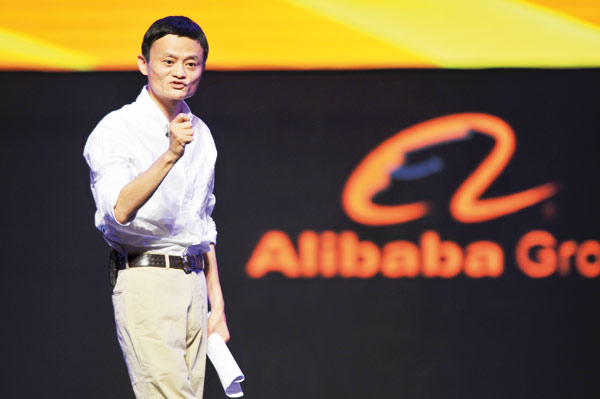 Jack Ma, founder and chairman of Alibaba Group. [Photo / Xinhua]
The Chinese Internet tycoon Jack Ma once said he wants his self-made Alibaba Group Holding Ltd to last 102 years so the e-commerce company, founded in his apartment in Hangzhou, Zhejiang province, in 1999, will still be around in 2101, meaning it will have spanned three centuries.
It is way too early to predict whether Ma's wish will come true, but at least one thing is not in doubt: Alibaba is a fabulously successful company, and as its 15th birthday nears, it finds itself in possession of more than 90 percent of China's online retail market. Recently it filed for what may become one of the largest initial public offerings in the United States.
"We are a very lucky company," Ma has often said. A large part of that luck, he says, boils down to the fact that it is a product of the Internet age, and that he has been on hand to make the most of that.
"In the industrial age, you needed to have a rich father to be successful," he says.
Not only did Ma not have a rich father, there is nothing in his family background giving the barest hint of the financial success that would one day be his. The 49-year-old got poor grades when he was in school. English was the only subject in which he excelled, and he was an English teacher until he happened upon the Internet industry on a trip to the United States as an interpreter in 1994.
Ma's excellent English appears to have been pivotal when he gave a six-minute presentation in 2000 that landed him a $20 million investment from SoftBank Corp of Japan.
After some web-based business attempts, he teamed up with 17 co-founders to build Alibaba in 1999 with a mission to make it easy for small and medium enterprises to "do business anywhere".
Alibaba, which started as a business-to-business online platform to bridge the information gap between Chinese suppliers and international buyers, has grown into a huge e-commerce conglomerate. It functions like a combination of Amazon, eBay and PayPal.
Chinese online shoppers bought merchandise worth 1.542 trillion yuan ($248 billion) on Alibaba's online marketplaces, Taobao Marketplace, Tmall and Juhuasuan, last year.
Those online marketplaces accounted for 85.67 percent of China's total online shopping market and for about 6.5 percent of China's total retail sales.