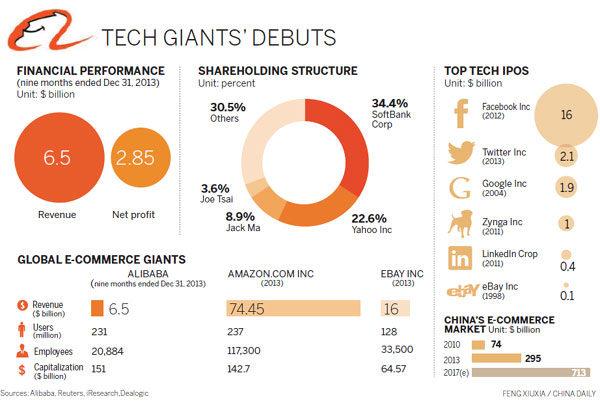 E-commerce behemoth poised to maintain domination of nation's virtual marketplace, Meng Jing reports
Founded in a Hangzhou apartment in Zhejiang province 15 years ago, Jack Ma's Alibaba Group Holding Ltd has grown into a monster conglomerate, dominating one of China's most dynamic economic sectors: e-commerce.
That domination will likely continue over the next few years, despite rising challenges from local rivals, as Alibaba filed on Wednesday for what could end up being the biggest initial public offering ever seen in the United States.
The huge pile of cash it is expected to raise is likely to help Alibaba find more new growth points as its e-commerce-based business is transformed into a competitive digital platform covering an increasingly broad array of Internet services.
Alibaba's regulatory filing gave a $1 billion placeholder value for the offering, but the actual amount is expected to be far higher, possibly topping the $19.65 billion raised by Visa Inc's offering in 2008, data compiled by Bloomberg showed.
Alibaba neither specified the number or price of shares it will offer nor gave a proposed IPO date. It has not revealed whether the IPO will be listed on the New York Stock Exchange or Nasdaq.
But analysts pointed out that the offering is likely to value Alibaba between $150 billion and $250 billion, which means it could be valued as low as social media king Facebook Inc or as high as global retailer giant Wal-Mart Stores Inc.
No matter how much it raises, the massive online market founded by a former English teacher, 49-year-old Ma, already was the world's largest e-commerce player in 2013.
Its online marketplaces-Taobao Marketplace, Tmall and Juhuasuan-generated a combined gross merchandise volume of 1.542 trillion yuan ($248 billion) from 231 million active buyers and 8 million sellers in 2013.
Put another way, Alibaba's online marketplaces accounted for 85.67 percent of China's total online shopping in 2013 and contributed to roughly 6.5 percent of China's total retail volume the same year.
Alibaba cited in its filing that its advantage in a nation in which e-commerce is fast becoming a way of life is the fact that the online market hasn't fully been tapped. Just 45.8 percent of China's population uses the Internet, lower than in the US or Japan, while only 49 percent of those users shopped online.
Egidio Zarrella, a partner of clients and innovation consulting with KPMG China, agreed with the rosy e-commerce picture painted by Alibaba.
"Even though the Chinese e-commerce market is big at present, it still accounts for only roughly 8 percent of the total retail market. In the next 10 years, it (the e-commerce market) will climb to 50 percent of the total retail market," said Zarrella, adding that there is no need to doubt e-commerce potential in China.