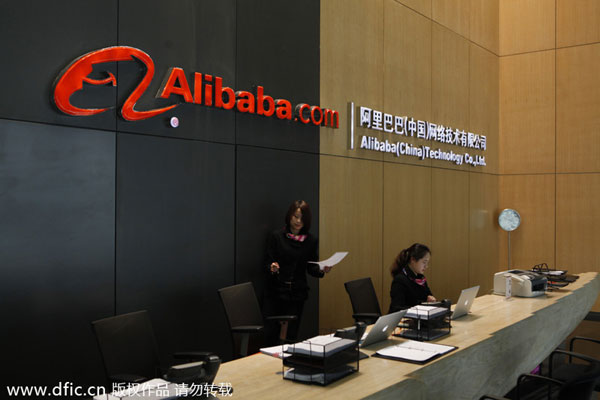 Chinese employees work at the front desk in the headquarters of Alibaba (China) Technology Co., Ltd. in Hangzhou city, east Chinas Zhejiang province, 16 March 2012. [Photo/dfic.cn]
$1.1 billion for piece of Wasu Media part of recent buying spree
An investment firm controlled by the founders of e-commerce conglomerate Alibaba Group Holding Ltd agreed Tuesday to buy a 20 percent stake in a Chinese Internet-television company for about $6.54 billion yuan ($1.06 billion), a move that will allow Alibaba to expand into the digital-content market.
The investment in Wasu Media Holding Co was announced within a week of Alibaba founder Jack Ma's paying 3.3 billion yuan to take the control of Chinese financial software developer Hundsun Technologies Inc.
Alibaba and its founders have embarked on a buying-up spree as the e-commerce empire heads to an eye-catching initial public offering in the United States later this year.
According to a statement from Wasu on Tuesday, Alibaba will provide a loan to the investment firm led by Alibaba co-founders Ma and Simon Xie and billionaire Shi Yuzhu to help finance the purchase.
Ma and his partners' investment in Wasu occurred as a strategic partnership between Alibaba and the Internet-TV company was inked on the same day. Under the terms of the partnership, the two companies will work together on digital content that can be presented on TV platforms.
"Wasu Group provides digital TV and broadband service with a network of 20 million subscribers, and its extensive user base will serve as one of Alibaba's distribution channels for digital entertainment content," the company said in a statement.
The investment in Wasu is not Alibaba's first foray into the media sector. In mid-March, Alibaba agreed to pay $804 million for a 60 percent stake in ChinaVision Media Group Ltd, which has a rich business portfolio ranging from print media to television and films to mobile games.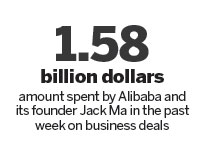 As compared to the digital content that ChinaVision Media will provide to Alibaba, Wasu is expected to empower the e-commerce giant in other ways. Lu Zhenwang, an independent Internet expert and chief executive officer of Shanghai-based Wanqing Consultancy, said the Internet TV license as well as other licenses Wasu has gained from the government will help pave Alibaba's way into the video entertainment industry.
There is no doubt that Alibaba has been gearing up to expand its footprint by pouring money into a string of companies, including department stores, television production, travel booking, cloud storage, messaging and finance.