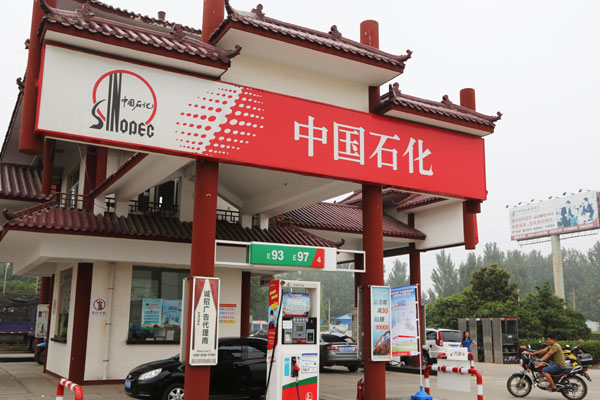 Russia's No 2 oil producer Lukoil said it agreed to sell its 50 percent of Caspian Investment Resources Ltd to Sinopec, which already owns the other half of the company. GENG GUOQING/CHINA DAILY
Move said to boost Chinese energy cooperation in Central Asia region
Asia's largest refiner Sinopec Group will buy stakes in several Kazakhstan oil projects for $1.2 billion from Oao Lukoil, Russia's No 2 oil producer, boosting Chinese energy cooperation in Central Asia.
"Chinese companies are increasingly buying into Central Asia in the energy sector," Zhang Bin, an analyst with commodities consultant Sublime China Information Co, said. This "will help reduce domestic oil costs and ensure supply in the long run".
Details on product sharing under the deal will determine its market influence, Zhang said. Sinopec will publish further details by the end of the week.
Lukoil said it agreed to sell its 50 percent of Caspian Investment Resources Ltd to Sinopec which already owns the other half of the company. The Chinese State-owned company will become full owner by the end of the year. Lukoil's share of production through Caspian Investment was 30,000 barrels a day in 2013.
With China's appetite for crude growing rapidly in past years to sustain economic growth, Chinese companies are seeking more overseas resources. Their search is shifting toward areas with a more stable political and investment environment with fewer risks, away from unstable countries and regions.
China has accelerated energy cooperation with Central Asian countries in both oil and natural gas. The biggest Chinese venture in Kazakhstan is operated by China National Petroleum Corp, the largest oil and gas developer. The project's daily crude output is 50,000 barrels.
During President Xi Jinping's visit to Central Asian states last fall, China announced $30 billion of deals with Kazakhstan.
According to the 2013 Annual Development Report on World Energy by the Chinese Academy of Social Sciences, Central Asia has proven reserves of 6.87 billion metric tons of crude oil and 12.85 trillion cubic meters of natural gas.
"China is expanding energy cooperation in the region with Kazakhstan as a core partner, via different forms including upstream exploration, building cross-countries natural gas pipelines, mergers and acquisitions of energy ventures in the region and providing oilfield services," the report said.
Kazakhstan owns 3 percent of the world's recoverable oil reserves and is the second largest former Soviet oil producer after Russia, according to public information.