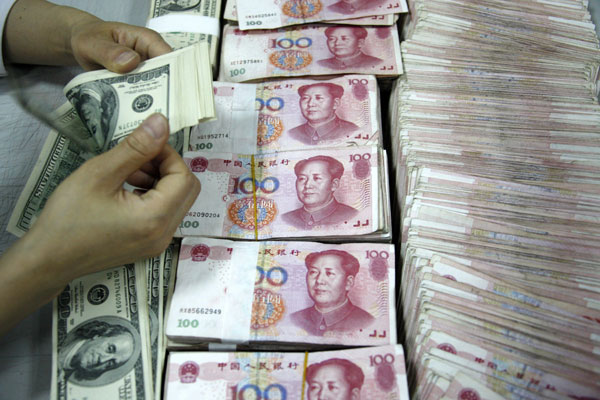 US hundred-dollar bills are counted next to stacks of 100-yuan notes in Huaibei, Anhui province. The central bank governor said the yuan's retreat has been largely "market-driven". AFP
Ministry says China will continue to reform exchange-rate system
China has responded to claims by the United States that the yuan's recent depreciation was the result of "large-scale intervention" by urging the US to "correctly understand and properly handle" the issue of the currency's exchange rate.
Hua Chun-ying, a spokeswoman for the Ministry of Foreign Affairs, told a regular news briefing in Beijing on Wednesday that the US should take a "constructive attitude" toward the matter and promote closer China-US economic and trade ties. She added that China will continue to reform its exchange-rate formation mechanism.
In its semi-annual report to Congress, the US Department of the Treasury said that the yuan's recent depreciation "would raise particularly serious concerns" if it was a signal of a change in China's policy of scaling back intervention and letting market forces play a bigger role.
"There are a number of continuing signs that the exchange-rate adjustment process remains incomplete and the currency has further to appreciate," the Treasury said.
The report didn't name any country as a currency manipulator.
The Treasury acknowledged that the widening of the yuan's trading band last month gives China the opportunity to allow the market to play a greater role in determining the exchange rate.
Chen Xuebin, a professor at Fudan University in Shanghai who specializes in foreign exchange issues, said that a wider trading band for the Chinese currency and the US phasing-out of quantitative easing contributed to the yuan's recent weakening.
PBOC Governor Zhou Xiaochuan told reporters in Beijing last month that the yuan's retreat had been largely "market-driven".
Liu Dongliang, a Shenzhen-based senior analyst with China Merchants Bank Co Ltd, wrote in a report that the yuan's short-term trend hinges on the movement of the dollar and economic data from the US.
In the medium term, he added, the yuan still has strong momentum to appreciate, given that the interest rate gap between the two countries is still "attractive". He forecast that the yuan will appreciate 3 to 5 percent against the dollar over the next six to 12 months.
Li Wei, chief economist at Standard Chartered Plc, said that the yuan's valuation in the short run depends on the strength of the Chinese economy. "It is hard to see upward momentum before key economic readings bounce back and market confidence is restored," Li said. "But, in general, the yuan will largely stabilize over time," he said.
A weaker yuan is helping Chinese exporters, especially smaller ones such as Zhejiang Zhuguang Group Christmas Lighting Co Ltd, which exports festival decorations to Europe and North America.