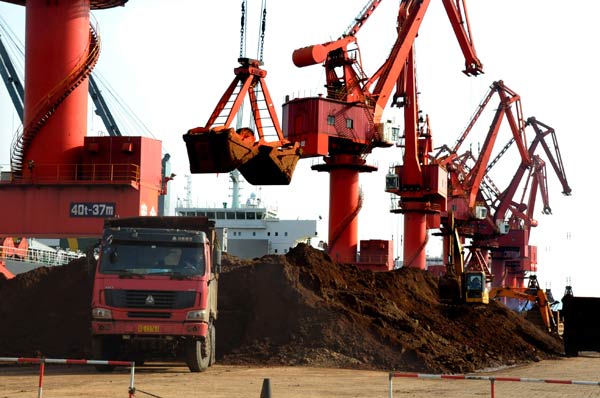 Rare earth minerals being loaded at Lianyungang harbor, Jiangsu province. In China, which produces more than 90 percent of the world's rare earth metals, industry consolidation is underway. [Photo / Provided to China Daily]
BEIJING - China's major rare earth producer Inner Mongolia Baotou Steel Rare-Earth Group said its net profit slumped 71.71 percent year-on-year to 69.38 million yuan ($11.26 million) in the first quarter of 2014.
Its revenue tumbled 52.76 percent from the same period last year to 1.09 billion yuan, according to the company's financial report for the January-March period.
The producer attributed the sharp drop to declines in both sales and prices amid a lackluster market.
The shrinking profit was partly due to the World Trade Organization (WTO)'s ruling against China's regulation of rare earth supply.
The WTO said on March 26 that China's regulation on rare earth exports was inconsistent with the organization's rules, signaling the country may have to further open its rare earth supply in case the WTO keeps its judgement in its final ruling.
An executive from Baotou said producers were worried that the canceling of regulations on exports would compound the struggling sector with a further price slump.
Chinese rare earth producers have suffered since 2011 from continuing price falls due to excessive exploitation, triggering across-the-sector production suspensions and business mergers, as well as a worsened environment.
China, the world's largest rare earths supplier, serves around 90 percent of global demand with only 23 percent of reserves.
The company's shares traded on the country's A share market dropped 4.14 percent to 20.14 yuan per share on Wednesday as a result of the profit shrinkage.