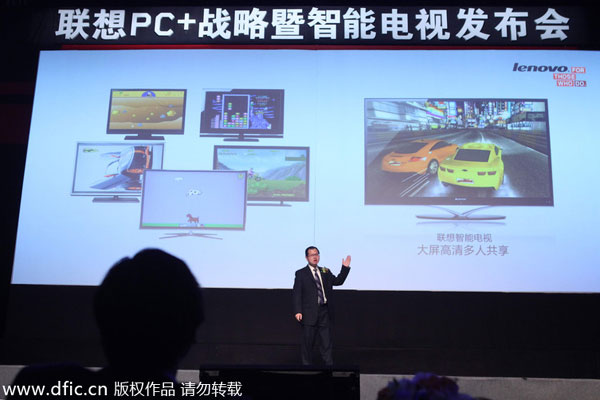 Xiong Wen, general manager of Digital Home Group of Lenovo, introduces Lenovo smart TV during its launch ceremony in Beijing, China, May 8, 2012. [Photo/dfic.cn]
Lenovo Group Ltd, the world's largest personal computer maker, is planning to build around 2,000 brick-and-mortar smart-television stores in China by the end of the year to boost sales of its newly released TV products, company executives said on Wednesday.
The Beijing-based company is looking to Chinese families' living rooms for a new profit booster after PCs and smartphones.
"We are targeting the top five smart-TV vendors for sales volume in the coming years. To hit this goal Lenovo has to join hands with more channel partners this year," said Chen Xudong, senior vice-president of Lenovo.
The smart TVs will rely on e-commerce websites to gain market share in tier-one to tier-three cities, according to the company.
The nation's top e-commerce platforms, such as Suning Appliance Co Ltd, T-mall and Gome Electrical Appliances Holding Ltd, are the major sales channels for Lenovo TVs.
"We have a different approach in lower-tiered cities because online shopping in these areas is not as developed as it is in large metropolises," said David Ren, head of the smart TV unit at Lenovo China.
The stores will cover 90 percent of around 2,000 counties in China by the end of this year, Ren added.
Lenovo will also utilize its strong PC sales network to distribute TV products in smaller Chinese cities.
The company refused to disclose the sales target for its ambitious brick-and-mortar store project, only saying its 2013 sales volume was 10 times higher than in 2012.
Domestic manufacturers controlled roughly 80 percent of the nation's TV market as of 2013, data from research firm All View Consulting Ltd showed.
Skyworth Group and Konka Group Co Ltd, both based in Shenzhen, Guangdong province, are the largest TV makers in China in terms of market share, according to AVC.
The penetration rate of smart TVs hit 45 percent in China as of the end of 2013, it said, adding the potential market demand "remains huge" in the coming years.