BEIJING - Innovation has always been in the DNA of Lenovo, and will help the company make a difference in the post-PC era, according to Yang Yuanqing, CEO of Lenovo, China's leading computer firm.
"Lenovo's innovation lies in its technology, products, business model and cultural management. Its name, which was changed from Legend in 2003, is a combination of 'legend' and 'novo', a Latin word meaning new," Yang told Xinhua during an interview.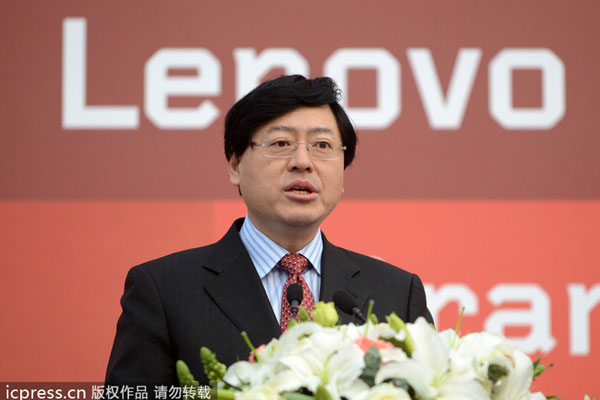 Yang Yuanqing, CEO of Lenovo, China's leading computer firm, Dec 19, 2013. [Photo/icpress.cn] 
According to Yang, the recently developed application AnyShare now has 50 million users. It can send files or pictures between cellphones, tablet computers and PCs without the need of an Internet or wifi connection at a speed that is 50 times higher than bluetooth.
Liu Chuanzhi, founder of the Lenovo Group and president of Legend Holdings Ltd, told Xinhua that innovation is the driver that motivates the development of the company.
"Lenovo pays high attention to the fruits brought about by innovation and they will be tested by the markets," said Liu.
In 2013, Lenovo ranked first in the PC market taking 17.7 percent of market share worldwide. It is welcoming the post-PC era with 4G technology, Internet development and multiple terminal devices, said Liu.
Liu recalled that 30 years ago when he started the company, China had fallen behind the rest of the world in the PC market.
"Before we started the IT business, we had a dream to create a top domestic brand of computers. We encountered difficulties during the development such as the merger with IBM PC. We kept learning to reach our goal," said Liu.
Yang said that in 1994, Lenovo had only three percent of the domestic market. In 1997, it topped the domestic market, as the company set the target of becoming one of the top three PC companies in the world.
In 2005, Lenovo merged with IBM PC, taking seven percent of the world market share. Last year, the company took more than 10 percent of market share, Yang said.
"Lenovo will never stop innovating," Yang said, "it will climb to a higher point and we positively predict that sales volume will exceed 100 million yuan ($16.5 million) between 2013 and 2014."
Lenovo now ranks first in the PC market, and second to Apple Inc in the market of PC and tablets, Yang said.
"We hope to become the champion in the combined field of PC and tablet PC, and in the 4G era, users will see better devices and more friendly applications provided by Lenovo," Yang added.