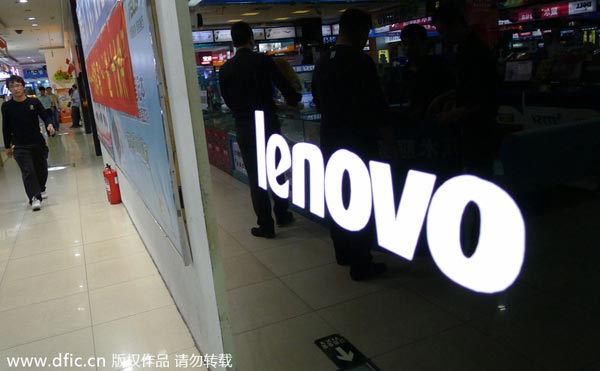 A pedestrian walks past a logo of Lenovo in Qingdao city, east Chinas Shandong province. [File photo/dfic.cn]
The smartphone and mobile Internet markets have grown rapidly in China, and many mobile application developers are collecting a wide range of user information, some of which goes beyond what they need to market their products.
For instance, when users install or update smartphone apps, they are asked to allow the apps to read their phonebooks and text messages. Some
software
developers even ask users to allow a voice recorder to run in the background. Without proper management, data collected from users run the risk of being hacked.
The safety of personal information has raised concerns in the executive offices of many IT firms.
Yang Yuanqing, chairman and CEO of Lenovo Group Ltd, has urged legislators to make laws to protect people's personal information.
"Compared with the fast-growing mobile Internet industry, current laws concerning the industry are not systematic," he said.
"Some lack supporting rules. Others are difficult to implement. As a result, those who leak or sell people's information illegally pay only a small price," Yang said.
He suggested that the government build an interdepartmental mechanism to strengthen the efforts in law enforcement, accelerate the process of making technical standards of network security, and raise the bar for the safety certification of mobile Internet apps.
"The government should forbid software developers from collecting unnecessary personal information and give the users a choice about whether to authorize the developers to access their information," Yang said.
He noted that most users don't read mobile application authorization agreements very carefully.